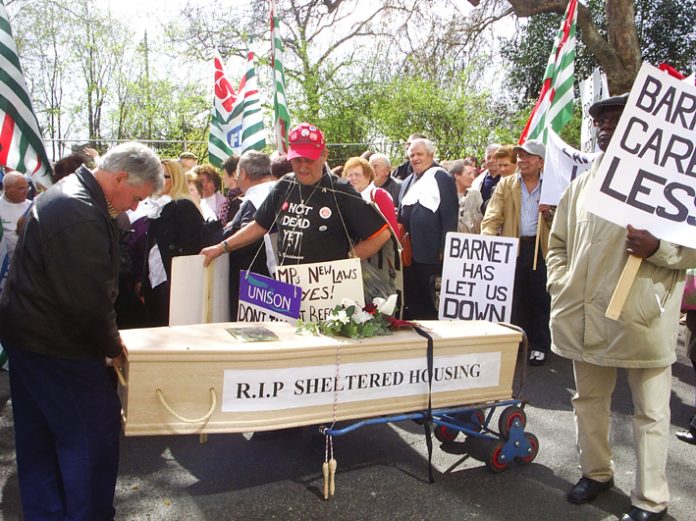 TORY-controlled Barnet Council in north London has announced plans to scrap its housing register.
At the Council's Cabinet on June 21, the Cabinet Member for Housing, Planning and Regeneration, Councillor Richard Cornelius, submitted his department's report, which says that a new housing allocations policy is a 'priority' for the Council's corp
The report says (3.2): '. . . the new allocations policy will also contribute to corporate plan priorities Better Services with Less Money and Successful London Suburb.'
It adds (3.3): '. . . A new relationship with citizens will be delivered by . . . being more direct with the public about what the council is able to do and not able to do to help them.
'More effective housing allocations processing will achieve a relentless drive for efficiency by delivering significant savings and cost reductions.'
The report continues (3.4): 'The Council's Housing Strategy 2010-2025 recognises the increasingly important role that the private rented sector plays . . . the draft allocations policy will set out an approach that complements this shift by recognising that an offer of private rented sector housing provides a positive solution to housing need.'
The document then deals with the Use of Resources Implications (Finance, Procurement, Performance & Value for Money, Staffing, IT, Property, Sustainability).
It says that (6.1): 'By removing the need to maintain the housing register it is expected that substantial reductions in administrative costs will be realised.
'This year £230,000 will be saved in the housing service as a result of the lean systems review, and additional reductions in cost are being quantified . . .'
As to whether this is all legal, the document for the Council's Cabinet says (7.1): 'Advice has been received from counsel which confirms that Barnet is not legally required to maintain a housing register and that it is permissible for Barnet to have a system where applicants not within a defined category for preference are advised that they will not be considered for allocation . . .'
The document also says that (7.2): 'Counsel has been advised that Barnet is allowed to give some preference to those outside the statutory preference groups . . .'
It would be necessary 'to have an internal review system'.
'If this upheld the initial decision the applicant would still have the right to apply for a judicial review . . .'
Where the homeless are supposed to get the money to apply for a judicial review, the document doesn't say!
The document actually says (7.4): 'Counsel advises that a more wide-ranging consultation on the proposals to change the allocations policy would help to reduce the chances of successful challenges to it.'
Outlining the background to the situation in Barnet, the document says that (9.1): 'The introduction of Choice Based Lettings (CBL) in 2004 was the first significant change in the way the Council allocated its homes in over two decades.'
The report says (9.2): 'Under the current housing allocations system housing applicants are assessed and awarded points which can be used to bid for properties via an electronic bidding system . . .'
(9.3) 'A review of the housing allocations system has been carried out using lean systems methodology . . .
'Staff are encouraged to . . . experiment in different ways of delivering services.
'The way that the existing system works has been examined in detail and new ways of allocating properties tested.'
The report then adds (9.4): '. . . Whilst clear demand for housing is evidenced by more than 17,000 households listed on the housing register, the system has been failing . . .
(9.6) 'The review found that the points system used to prioritise applicants in many cases neither provides an assessment that is accurate or reflects current housing needs . . .'
The document goes further, saying (9.9): 'There is currently no facility for recognising the importance of providing opportunities for households who are working, training or making other positive contributions to the community such as voluntary work.'
In future, says the document, Barnet will operate a 'database of live applicants who fall within one of the new bands . . . Households falling outside of the banding would be told that their application is closed (subject to appeal) . . .'
Barnet doesn't believe that housing should be focused 'solely on those households with the highest need'.
It wants instead to create a policy where: 'Social rented housing should, wherever possible, provide a stepping stone to more independent housing choices, but will struggle to achieve that role if all homes are let on a highest need basis.
(9.13) 'The draft allocations policy seeks to reward positive contribution to the community, such as working or training, and penalise households who have behaved in a negative manner, for example by committing acts of anti-social behaviour or failing to pay their rent.'
The system of housing for 'those who make a positive contribution to the Barnet community' will be achieved 'through the banding system described'.
Band 1 will be 'People who have a reasonable preference and are granted additional preference (being persons with very urgent housing needs) and who have a local connection with Barnet . . .'
Band 2 will be 'People who . . . also qualify for the positive community contribution criteria such as being in employment, training or voluntary work and who have a local connection with Barnet.'
Band 3 will be 'People who fall within one of the reasonable preference categories but do not qualify for the positive community contribution . . . '
Band 4 will be 'People who do not have reasonable preference but qualify under a Barnet positive Community Contribution criteria and who have a local connection with Barnet'.
Band 5 will be 'People who have been awarded reasonable preference but have had that preference reduced . . .'
These draconian new conditions will also enable Barnet to scrap its 'current computer-based bidding system'.
This system, says the document (9.17) 'is complicated and costly to operate'.
The document adds: (9.18) 'There is no requirement by law to operate a choice-based letting scheme based on a bidding system, only a requirement to inform applicants of the authority's policy on choice and expressing preferences . . .
(9.20) 'Officers freed up from the savings through the removal of the Housing Register and bidding system would work proactively with the applicants that fell into one of the bands described above, helping them to secure housing or an appropriate outcome to their housing problem . . .'
(9.21) 'An applicant would have a limited number of opportunities to select a property from a property pool.
'If they refused and were homeless, a social housing property from the pool would be chosen to be formally offered as a final offer to end the homeless duty.
'If not homeless, the policy could be that after refusing one or more pools they would be given a reduced preference for 12 months.
(9.22) 'A model based around this framework could work well in Barnet . . . providing a realistic vision that reflects the limited resources available to the council.'
The document concludes (9.24): 'A consultation period of 12 weeks is proposed, following which an updated version (of) the Allocations Policy will be brought back to Cabinet for approval.'
Barnet is destroying the basic principle of the Welfare State that those most in need should be a priority for assistance, in favour of using their control over housing as a reward for 'showing a positive contribution' to the government's policies in relation to the 'community'.
This means getting a home in Barnet will be a reward for services rendered to the state, with those in real need turned away.