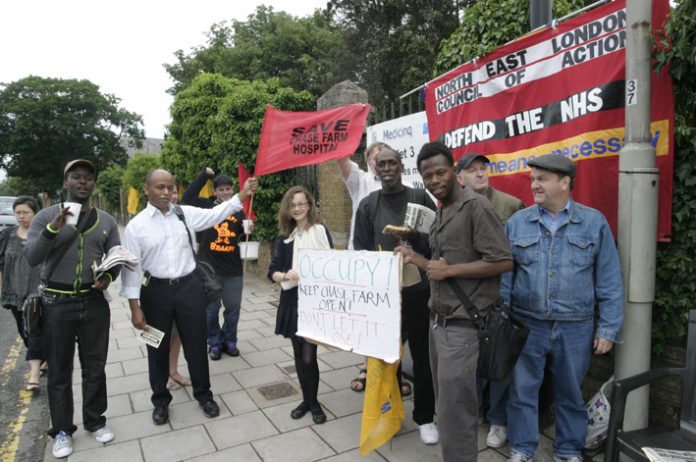 PATIENTS and staff yesterday expressed their determination to stop the closure of Chase Farm Hospital's A&E, consultant-led Maternity and Paediatrics departments, and to reopen the Bush Hill Park GP surgery.
They were talking to News Line at the latest monthly mass picket outside the Enfield hospital, organised by the North East London Council of Action.
Student nurse Gisline Mangenda said: 'I don't think it's a good idea to close the A&E, Maternity and children's units here.
'Children deserve better treatment.
'We should stop the closure because we need all of the hospital.
'And it's wrong to close the GP surgery at Bush Hill Park.
'They should reopen it because a lot of people are familiar with their GP and will be forced to look for another one.
'I will attend the public meeting on July 8th.'
Outpatient Norma Nurse added: 'The closures are not very good. We have to keep Chase Farm open and get the GP surgery at Bush Hill Park reopened.
'It affects many people – they'd have to go further for treatment, especially pregnant women going to Barnet and North Middlesex, it will be too much for them.
'I think it's just about money and cuts. We have to stop the closures.
'I'll support sit-ins, that's a good idea.'
Another Chase Farm outpatient Robert Miller said: 'I don't think closing the A&E and Maternity is a good idea.
'It's wrong to shut the GP surgery at Bush Hill Park as well.
'We pay enough for the NHS, even for car parking, and it should be kept open.
Local musician, Mark said: 'I'm against the closure. We need the A&E and Maternity – what would we do without it?
'This Cameron is cutting everything, including incapacity benefits.
'People who are genuinely ill have to go and prove it and face losing benefits.
'If they closed this one, where would we go?
'If we had to go to Barnet some people could end up dead if they have an emergency, such as a heart attack.
'We will stop the closure. I'd support an occupation. I'll support Chase Farm to save it and the GP surgery.
'We should get the unions on board, do whatever it takes to save them.'