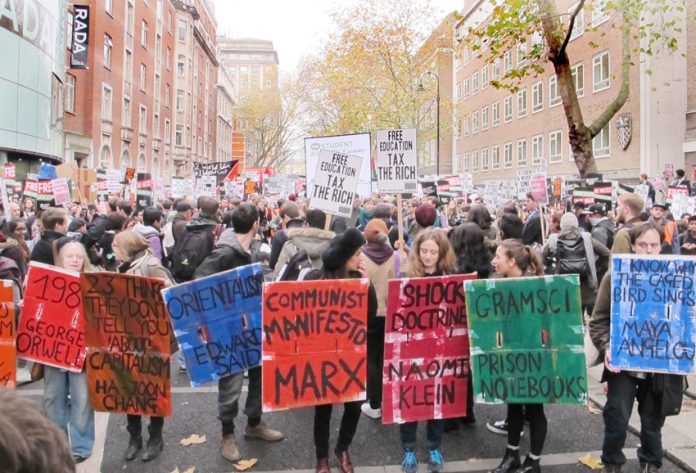 THE Warwick Commission's final report, Enriching Britain: Culture, Creativity and Growth, launched on Tuesday, warns that the arts are being squeezed out of schools.
Commission chairman Vikki Heywood said: 'The key message from this report is that the government and the cultural and creative industries need to take a united and coherent approach that guarantees equal access for everyone to a rich cultural education and the opportunity to live a creative life.
'There are barriers and inequalities in Britain today that prevent this from being a universal human right. This is bad for business and bad for society.'
Tony Hall, Director General, BBC, added: 'The Commission's Report is a blueprint for the continued success of arts and culture in Britain.
'It's written for everyone – right across our industry and in every walk of life – and I join with its authors in calling for all of those who have a part to play to give themselves permission to believe in a better future for the arts. Its conclusions will help us all deliver that vision.'
The Commission's press release said: 'The report is the result of a one-year investigation undertaken by a diverse group of cultural leaders, supported by academics from the University of Warwick.
'The report argues that the Cultural and Creative Industries are one entity, an ecosystem, which is becoming increasingly important to British life, the British economy, and Britain's place in the world.
'It calls for joined-up policy making and a national plan for the sector that maximises cultural, economic and social return.
'The Commission's analysis throws down a sharp challenge to all those who value how culture enriches people's lives and makes a range of recommendations as to how we can ensure everyone has access to a rich cultural education and the opportunity to live a creative life.'
The report finds that creativity and the arts are being squeezed out of schools. Cultural experiences and opportunities were being closed off to youngsters, especially those from poor backgrounds, the Commission's report says.
It warns that there has been a significant decline in the number of state schools offering arts subjects taught by specialist teachers.
The report found that between 2003 and 2013 there was a 50% drop in GCSE entries for design and technology, 23% for drama and 25% for other craft-related subjects.
In 2012-13, only 8.4% of students had combined arts and science at AS level, it says.
The report cites figures showing that since 2010, the number of arts teachers in schools had fallen by up to 11%, teaching hours and teachers for design and technology were down 11%, drama teacher levels had fallen by 8% and teaching hours for the subject, including hours taught by non-specialists, had reduced by 4%.
The number of art teachers has also fallen by 4%, while the subject has seen a 6% decline in teaching hours, it adds. The research also found that the cost of young people taking part in some extra-curricular activities was putting them out of reach for low-income families.
Commissioners warned that without action, there is a risk of creating a 'two-tier' system, in which only the most advantaged youngsters had access to a wide range of experiences.
Their report found that youngsters born into poor families with few qualifications were the least likely to work and be successful in cultural and creative industries.
These children were also less likely to take an interest in and appreciate the arts as part of the school curriculum and have parents who valued public-funded arts and heritage.
The study also cited recent research that found while 76% of parents had said that their children regularly took part in arts clubs and cultural experiences outside of school, there were significant costs associated with them.
The Commission warned: 'There are major concerns that the educational system is not focusing on the future needs of the cultural and creative industries and the broader needs for innovation and growth in the UK.
'There is a general agreement within the cultural and creative industries, and industry more broadly, that the government's focus on science, technology, engineering and maths (Stem) should include the arts (Steam).'
The report accused the government of being 'obsessed with a siloed subject-based curriculum' and early specialisation in arts or science.
However, it insisted: 'We need creative scientists as much as we need artists who understand the property of materials and the affordances of new technology.'
Warwick University researcher, and commission member Prof Jonathan Neelands, commented: 'Without educational intervention, we are in danger of allowing a two-tier creative and cultural ecosystem in which the most advantaged in social and economic terms are also the most advantaged in benefiting economically, socially and personally from the full range of experiences and value in that prevailing system.'
Commenting on the report, National Union of Teachers General Secretary Christine Blower said: 'This is the second report in as many days to confirm that England has a curriculum and assessment system which is too narrow and simply does not allow children and young people to develop their full potential in all areas.
'The curriculum, reshaped by this government, focuses on a small range of subjects and makes little concession to creativity and wider issues of personal development.
'As the need for creative and cultural education rises, England's capacity to meet that need is in decline. Pupil numbers in many arts subjects are falling; teacher numbers are likewise going down.
'In its manifesto, Stand Up for Education, the NUT notes this drastic narrowing of the curriculum, with the sidelining of music, arts and drama. It calls for a wider vision of learning and achievement.
'It is heartening that the Warwick Report makes the same kind of case. Like the report's authors, the NUT wants to see "a curriculum that is infused with multi-disciplinarity, creativity and enterprise".
'Like them it sees arts education as an entitlement for all children, not just the better-off. The report will reopen a much needed debate on creativity and education. Some of the reforms it proposes are welcome. Others need further discussion.
'To ask Ofsted to inspect a school's commitment to creative and cultural education, for instance, is likely to force schools into exactly the tick box approach which is part of their current difficulties.
'Turning schools in a creative direction means moving away from Ofsted-style accountability, not embracing more of it.
'The report has major implications, which involve the supply and training of teachers, the design of curricula, the funding of schools and their links to the cultural sector.
'Teachers will welcome progress on this agenda. It is long overdue.'