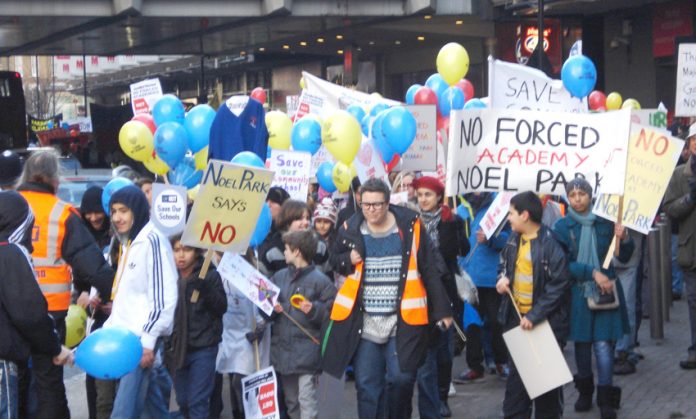 MPs on the Public Accounts Committee have been shocked by the £8.3 billion wasted on the expansion of privately-run Academy schools at the expense of state schools.
The latest PAC report says: 'The Department (of Education) has incurred significant costs from the complex and inefficient system it has used for funding the Academies Programme and its oversight of academies has had to play catch-up with the rapid growth in academy numbers.
'The Department and its funding agency need to increase their grip on the risks to public money as more and more schools become Academies.'
The MPs conclude: 'In the two years from April 2010 to March 2012, the Department spent £8.3 billion on Academies; £1 billion of this was an additional cost to the Department not originally budgeted for this purpose …
'Furthermore, the Department has yet to establish effective school-level financial accountability for academies operating within chains.
'Inefficient funding systems and poor cost control have driven up the cost of the Programme. A large part of the £1 billion additional cost since April 2010 has been caused by the excessively complex and inefficient academy funding system which has reportedly led to overpayments and errors in payments to Academies.
'We are not yet satisfied that individual academies' expenditure is sufficiently transparent to parents, local communities or Parliament.
'Despite some improvements, key information on what academies actually spend is still only available at trust, rather than individual academy, level.
'This limits the ability of parents to scrutinise how their child's school is spending its money, and of communities to hold their local school to account.
'The Department must publish data showing school-level expenditure, including per-pupil costs, and with a level of detail comparable to that available for maintained schools, so that proper judgments can be made and comparisons drawn to assess value for money.
'The Department should state how it will make robust, line-by-line information on individual academies' expenditure publicly available in the most cost-effective way.
'New governance, compliance and oversight arrangements for academies remain vulnerable to failure.
'Some serious cases of governance failure and financial impropriety in academies have gone undetected by the Department's monitoring, raising concerns that central government may be too distant to oversee individual academies effectively.
'Irregular expenditure by academies and gaps in the oversight framework led the Comptroller and Auditor General to qualify the 2011-12 accounts of the Department and the Young People's Learning Agency.
'Academies' compliance with mandatory monitoring is not good enough, and it is not yet clear how well revised audit arrangements will address these issues in future.
'The Department and the Education Funding Agency should review the operation of the new audit and oversight regime put in place this year, and assess whether it is reducing risks to regularity, propriety and good governance.
'Forthcoming staff cuts at the Department and its agencies may threaten effective oversight as the Programme continues to expand.
'We are sceptical that the Department has sufficient resources to properly oversee the expanding Programme, especially as schools now joining are less high-performing and may require greater oversight and scrutiny.
'The Department should review the Programme's central resource requirements, and the extent to which efficiency savings expected from new IT systems and assurance processes are being realised, and are sufficient to offset the need for further resources.'
Commenting on the publication of the PAC report, Chris Keates, General Secretary of the NASUWT teachers' union said: 'The Report confirms the concerns that NASUWT has been raising for some time about whether the academy programme is delivering value for money.
'It is clear from the Report that the Academy programme has expanded too far, too fast and the Department for Education is under-resourced and unable to cope with the Secretary of State's ideological drive to take schools out of local authority control.
'What is also clear is that enormous sums of public money have been used to fund a complex and inefficient programme, resulting in funds being diverted away from other areas, including money that should have been spent on school improvement across all schools.
'The NASUWT welcomes the PAC's call that every Academy Trust must provide data showing school-level expenditure. The NASUWT has made this call repeatedly.
'There should be no "secret garden" of funding when public money is involved.'
Christine Blower, General Secretary of the National Union of Teachers, said: 'These findings really are a shocking indictment of Michael Gove's management of his Department and of a key coalition government policy.
'The Committee's report makes clear that Michael Gove's haste to expand the number of academies at all costs has come at the expense of financial accountability and value for public money.
'The Committee points out that removing local authorities' responsibility for schools means that the Department for Education is now responsible for ensuring the best use of and value for taxpayers' money. It is clear from the PAC's report that they have failed in their duty to do so.
'As the report notes, the Department's complex and inefficient financial arrangements has meant it has incurred significant additional costs, causing it to overspend by £1 billion on the academies programme. The Department for Education has also failed to guarantee oversight of the academies programme. Its rapid expansion has resulted in the DfE having to play "catch up" on accountability.
'As more schools become academies, the PAC notes that the Department and the Education Funding Agency need to increase their grip on the use of taxpayers' money.
'Parliament and the public need to be able to make proper assessments of the use of public money on academies, relative to their performance.
'The NUT agrees with the PAC's view that, for this to happen, academies need to be made more financially accountable for their spending and that the Department should be more transparent in publishing data on its spending on the academies programme and that of individual academies.
'It is a shocking indictment of the Secretary of State that some two-and-a-half years into his term of office he should have to be told by the PAC he needs to ensure that accountability, roles and responsibilities are clear and that robust mechanisms must be in place for identifying and tackling academic and financial failure in academies. He really needs to pause and reflect.'
Martin Johnson, deputy general secretary at the Association of Teachers and Lecturers (ATL), said: 'Once again the Public Accounts Committee echoes ATL's concerns, shared by many working in education, about the financial accountability of academies.
'It's hard to know which is worse, the lack of financial transparency in academies or the government's failure to check for and identify instances of misuse of funds.
'We are appalled by the gung-ho attitude of ministers to ensuring value-for-money for children, parents, schools and taxpayers: they don't know whether the academies programme is value for money and have no plans to find out.
'Is that because they are starting to realise that academies perform no better on average than other schools?
'Yet another back-of-an-envelope policy is starting to unravel, and sooner or later Mr Gove will have to face some music.'