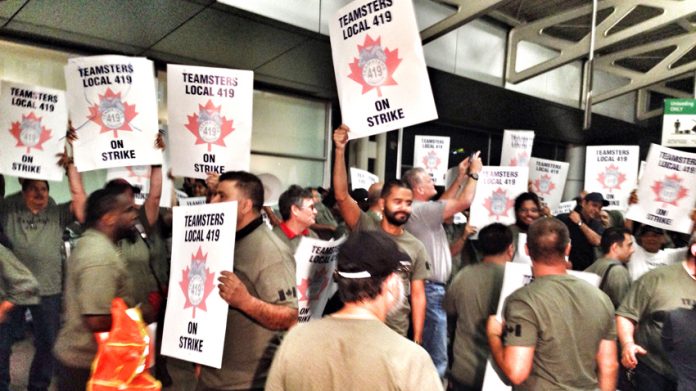 OVER 700 ground crew workers at Pearson International Airport, Toronto, Canada's busiest airport, have been on strike since 9.30pm last Thursday evening, after their employer, Swissport, imposed a pay and conditions cutting contract on them, having brought in 250 'temporary workers' in May.
The situation is very reminiscent of the Gate Gourmet attack on Unite trade union members at Heathrow Airport in London in 2005, when hundreds of 'temporary' workers were brought in one morning and nearly 1,000 summarily sacked when they protested.
'They've been brought in to certainly undermine our bargaining, but at the same time, they've been brought in to, really, replace us if there is a labour dispute,' Teamsters Local 419 vice president Harjinder Badial declared.
'All they've done here is to reassure the airlines and any of their other customers at cargo, they've brought in these agency workers, anticipating a strike or, I'm even hearing now, a lockout,' said Badial.
The 700 workers went on strike last Thursday after voting overwhelmingly to take strike action against pay and benefits cuts. The workers handle baggage and cargo, tow planes, clean cabins, and perform flight operations tasks for over 30 airlines.
'We tried our best to reach an acceptable agreement with the company. Swissport just wasn't interested,' explained Badial. Badial said he regrets that passengers will have to deal with lost luggage, significant delays and flight cancellations at Pearson. We spent weeks trying to avoid getting to this point. Sadly, the company is insisting on forcing a bad deal on workers.'
Swissport is attempting to impose a 3-year wage freeze on the majority of their workers. The company also wants staff to work a minimum of 30 hours a week to qualify for full benefits. However, workers' drug, health, and dental coverage should not depend on volatile weekly schedules. Finally, the employer is asking for more 'flexibility'.
They want the right to change schedules with 96 hours advance notice. That means workers would no longer have stable, predictable schedules. People should be able to plan their lives more than four days in advance. Swissport recently brought in hundreds of untrained, inexperienced temporary agency workers.
The company told journalists that they were there to help handle the summer travel rush. But Swissport VP of Operations, Pierre Payette, told the union's bargaining team a different story over the weekend. He said that 'the temps would be gone' as soon as a new collective agreement was ratified by members.
The Teamsters declared: 'At that point, it became clear that the agency workers were actually strikebreakers. Their purpose is not to handle a summer travel rush, but to attempt to continue operations in the event of a strike.'
Badial said: 'We're shocked at how Swissport is willing to sacrifice airport safety and jeopardise travel plans to gain an upper hand at the bargaining table. We have no idea how Pearson will be able to operate safely and normally with this crew.'
To safely work in sensitive areas of the airport, baggage handlers normally require three to four weeks of training. The temp workers only received three to four days of training. This has already led to several accidents, injuries, and cases of lost luggage. In one case, they even damaged a plane.
Moreover, it is unclear how hundreds of agency workers were able to pass airport staff background checks so quickly. These normally take three to six months. Swissport butted heads with the union over safety in the past. Over the past few months, the company threatened to discipline workers who refused to work due to health and safety concerns.
When the chief steward complained, the company threatened to remove his Restricted Area Identity Card (RAIC), which is tantamount to firing. The last collective agreement expired on July 23, 2017 Teamsters represent 125,000 members in Canada in all industries. The International Brotherhood of Teamsters, with which Teamsters Canada is affiliated, has 1.4 million members in North America.
The union said there have been increasing delays in moving baggage since last Friday and on Sunday, the airport's busiest day, there were severe delays. Harjinder Badial said that Friday's delays lasted anywhere between 20 minutes and three hours, because experienced ground crew were walking the picket line. He said on Sunday that the union had received reports there were lengthy backlogs in moving baggage at Pearson's Terminal Three and some flight delays.
Both sides were watching operations on Sunday because all of the 30 airlines that Swissport provides ground services to had flights going in and out of the airport. Swissport International Ltd is an aviation services privateer based in Switzerland, which services 30 airlines at the Pearson International Airport, including Sunwing, Air Transat, Air France and British Airways.
The 700 striking workers comprise baggage handlers, cargo handlers, cabin cleaners and other ground staff, including workers who tow the aircraft. Swissport handles around 230 million passengers and 4.3 million tonnes of cargo annually, on behalf of 835 client-companies in the aviation sector. With a workforce of around 62,000 personnel, Swissport runs outsourced airline services contracts at more than 280 locations in 48 countries and has an annual turnover of 2.7 billion euros.
Speaking about the strike, Badial said: 'There have been significant delays. The Greater Toronto Airports Authority hasn't been reporting it, but we have been watching the tar.' Badial said the workers are also fighting Swissport pay and benefits cuts, on top of the privateer's hiring of 250 temporary workers last May.
The members of Teamsters Local 419 voted by an overwhelming majority of 95 per cent in favour of strike action. The overwhelming strike result followed a call from the union bargaining team to its members to reject a proposed inferior contract.
The union said it could find no common ground on changes Swissport wants to make to scheduling. The fight is not with the general public it's with Swissport management,' Badial said. 'We sent a message to Swissport tonight and I hope they're listening.'
Badial said that the temporary workers Swissport has hired have been involved in numerous accidents and the union has filed a complaint with the Canadian Industrial Relations Board. The union has described Swissport's proposed new contract as unfair to its workers and has also taken issue with the company's decision to hire the 250 temporary workers last May.
The union filed a complaint with the Canadian Industrial Relations Board over that matter, alleging the temporary workers are poorly trained and have been involved in multiple accidents over the past few months.
Recent employee injuries at Toronto's Pearson International Airport have occurred due to insufficient safety training of temporary workers in baggage handling. A July 17 news release from Local 419 stated that Swissport Canada Handling Inc. has recently hired nearly 250 workers from a temp agency for safety-sensitive positions at the airport.
Believing that the employer has compromised workplace safety, the union has filed a formal complaint with the Canada Industrial Relations Board. Our members normally get from three to four weeks of basic training to work on the ramp,' said Badial.
'They've been only given three to four days of actual training,' he added about the temp workers, who he said were hired in early May, 'and it's a serious concern, because there are so many different safety components when you're loading and offloading an aircraft.'
Badial cited a recent incident in which an agency worker was injured when his hands became caught in a conveyor belt. From what I understood, he was taken to hospital,' he said. 'If the person was trained, he would know not to place his hands in a certain area when he's putting bags on these conveyor belts.'
There have been a few other similar injuries, 'and some of the stuff is basic stuff,' Badial added.
In another instance, a temp employee left a ladder leaning against the tail of a parked aircraft, causing damage to the plane when the plane moved. When you're loading and offloading an aircraft, the aircraft actually moves quite significantly. It's not really visible to the eye.'
Local 419 believes that the employer hired the temp workers to put pressure on the union during current negotiations for a new collective agreement. Swissport and Local 419 have been in negotiations since March, said Badial, adding: 'Our focus definitely is on these agency employees in our bargaining.'