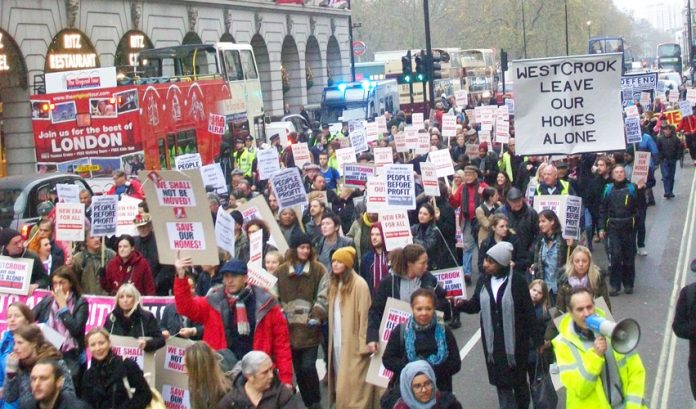 A 600 strong demonstration marched to Downing street to stop the eviction of 92 families from the New Era housing estate in Hoxton, Hackney.
The protest began with a lobby of Westbrook offices in Berkeley Square, central London. The company took control of the New Era estate earlier this year.
The rents are due to go up by as much as 400%, with the entire estate now under threat of eviction by Christmas.
The march then made its way to Downing Street shouting 'Here to Stay, Here to Fight, Council Housing is our Right!'.
A petition signed by campaign leader Lindsey Garrett and Barry Watt and endorsed by 294,283 supporters demanding the evictions be halted was handed in to Downing Street.
It stated: 'Keep rents at a rate affordable to existing tenants on the New Era Estate. Our estate, The New Era Estate in Hoxton, has a long history of providing affordable housing and has been home to some people for 70 years.
'It is home to families who have built their lives in this area – like mine. I'm a mother of young children and work for the NHS. My parents live on this estate too. There are so many families like mine who have this area in their blood.
'But the property firm Westbrook Partners have recently bought the estate and are planning a massive rent hike that will treble what we pay now.
'We're calling on the firm to ensure long term affordable rent so that our families aren't forced to be made homeless.
'Property prices in the capital have risen by 25% and now stand at an average of £400,000, above their pre-crash 2007 peak, whilst wages have drastically failed to keep pace.
'Hackney in general, but the areas surrounding Hoxton in particular, has been at the sharp end of this dramatic change, and the area has witnessed rapid social and economic change over the last decade, displacing long standing communities and destroying homes for workers providing key services to London and the local area.
'The cost of the forces of change have been paid by individuals and families, who are being forced from the area they were born and grew up in.
'The approach of profit over people is devastating lives and shredding long standing communities, to such an extent that the Mayor of Hackney, Jules Pipe, has said that the treatment of the tenants is unfair and that the proposed rent increases are "tearing the heart out of Hoxton".
'After a public campaign the UK property company Benyon Estate, who had 10% in the estate, withdrew.
'The bowed to public pressure thanks to this petition. We can do the same with the US property company Westbrook Partners.
'Please support us and the families of The New Era Estate in Hoxton in calling on Westbrook Partners to keep rents at an affordable rate for the tenants of the estate so that 92 families are not made homeless.'
On the march George Massey said: 'I support the New Era tenants and I think that it is shocking that people are being stripped of their homes.'
Jason Verney a film maker said: 'I am passionate about council housing and I am against corporations that do not care about people.
'It is terrible that they are threatening to drive people out of their homes.
'First of all, rents were going to be driven sky high, now people are literally being forced out of their homes. Where I live in Kilburn their is a lot of homeless people around and their are lots of empty buildings that are not being used.
'I don't see why anyone should be homeless, there is more then enough space in this country for everyone.'
Alan Fontaine, a cab driver: 'Everything starts with a ripple, that ripple can become a tidal wave or even a tsunami!
'What I have noticed over the last thirty years is that we have lost not only a huge amount of council housing in this country but also council services, – they are privatising a lot of council services.
'The money spent on wars or on water cannons could easily have been spent on council housing. We are opposed to wars abroad, and we are opposed to the war against working people. We are declaring a war against poverty right now!'
Thomas Astin, who works in a phone shop told News Line: 'One of the things which is wrong with London is the greed of the private landlords and the condition of the homes that we are living in.
'You pay through the roof prices and then live in sub standard accommodation. I am here to stop the evictions, we have to stop these tenants from becoming homeless.'
Lindsey Garrett, campaign leader said: 'The reason we are here today is to tell Westbrook that they are not welcome on the New Era estate.
'We are a community, we have lived here for years, do the humanitarian thing, do the moral thing, do the right thing and leave our homes alone!
'This is for our children's future. Leave London alone!'
Resident Mrs Gilroy told News Line: 'We got a letter on Sunday saying they are now having talks with Hackney Council about temporary accommodation for the elderly and also for children.
'I don't want to go into sheltered housing, I don't want temporary accommodation, I want to stay where I am.
'The main priority for Hackney Council is now ensuring that pensioners and those with children are not homeless. What about everyone else? We are a tight community, they are trying to tear families apart. We're not going anywhere!'
A supporter of the campaign, Jen Brand, said: 'I'm a homeless mother from London. I was made homeless by my landlady to whom I had paid £90,000 in rent over the eight years I was there.
'I am not being offered any good solutions, they have put me in temporary accommodation, away from my family, away from my community and far from my son's school as well.
'So I'm here to highlight this terrible situation and support the New Era Estate tenants. There must not be a single eviction from the estate.'
Mahala Wall told News Line: 'I have never been to a demonstration before. People are being evicted from their homes and I think it is really important to stand up to this.
'I had to stand by these New Era residents because this could happen to any of us. It's a really powerful thing to always stand up for such a basic human right as housing.'
Vanessa Knowles, a student who had made her own sign reading 'The ache for a home lives in all of us,' said: 'A home is so necessary for people's state of mind.
'Council housing is extremely important. A job does not cover the costs of housing and living costs. They say that if you work hard you can make it, but this is just not true. I'm discontented with this government they definitely have to go.'
Naziha Derouichi said: 'I live on the estate. They said they are making the rents market value. We pay £1,100 a month, but they are going to push them up to £2,500 a month.
'I don't think working people can pay that amount. I've lived here for seven years and I want to stay.
'We've had no official letter of eviction, but we all expect it by Christmas.'