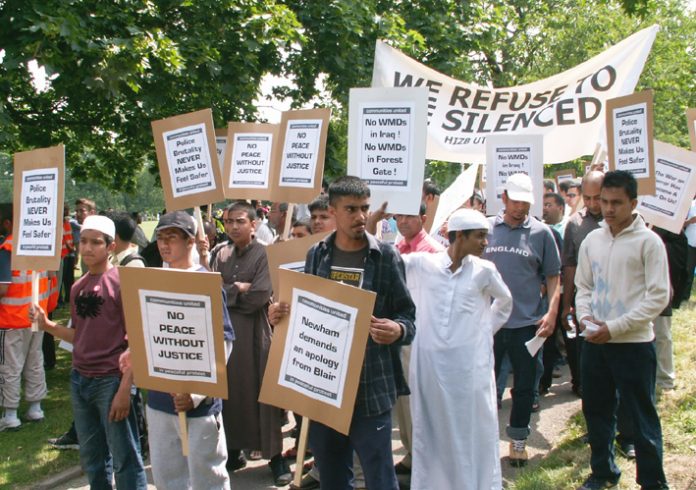 FORTY TWO leading writers will join Liberty in opposing government plans to hold suspects for 42 days without charge.
The 42 'Writers for Liberty' will showcase new works by leading writers including Philip Pullman, Monica Ali, Julian Barnes, Mohsin Hamid, Ian Rankin, Sadie Jones, Ali Smith and A.L. Kennedy.
'42 Writers for Liberty' was launched on Sunday 12 October as the House of Lords prepare to vote on the controversial legislation
Author Philip Pullman, winner of the Carnegie Medal and the Whitbread Book of the Year Prize, writes:
'We don't know how lucky we are to live in a nation where police officers have all of six weeks to discover why they've locked us up.
'Ask them after 41 days why a prisoner is still behind bars, and they can honestly and innocently say, "No idea, mate". But give them that extra day, and they'll crack it.'
Winner of the Costa Book of the Year Award, A.L. Kennedy writes: 'In 42 days we will have made you different.
'You may be charged, you may be released. You will always be different.'
Alain de Botton writes: 'What are the tools in Liberty's armament?
'Only the ability, based on nothing more than language and reason, to provoke a spasm of conscience in the men with the guns and the keys.'
Julian Barnes, short-listed three times for the Man Booker Prize, writes: 'Claiming to defend British liberty by diminishing British liberty has become a political norm over the last 30 years or so.
'Digging in the heels and shouting is now more important than ever.'
Liberty Director Shami Chakrabarti said:
'It is so heartening to see Britain's finest writers joining Liberty's campaign against extending detention without charge.
'Not a single writer that was approached turned down the opportunity to register their opposition to this divisive policy.
'Tomorrow the House of Lords will speak and we urge the government to listen.'
'42 Writers for Liberty' was organised by Simon Prosser, Publishing Director of Hamish Hamilton; Anya Serota, Publishing Director of Canongate Books, and Hari Kunzru, author of the novels The Impressionist, Transmission and My Revolutions.
The full list of participating writers in '42 Writers for Liberty' are: Julian Barnes; Ian Rankin; Salley Vickers; Alain de Botton; Daljit Nagra; Tahmima Anam; A.L. Kennedy; Stella Duffy; Andrew O'Hagan; Joe Dunthorne; Mohsin Hamid; Craig Taylor; Kamila Shamsie; Nadeem Aslam;
Linda Grant; Monica Ali; Rachel North; Nick Laird; Jackie Kay; Toby Litt; Maria Hyland; Philip Pullman; Hisham Matar; Jenny Diski; Michel Faber; Terence Blacker; Hari Kunzru; Anne Donovan; Lisa Appignenesi; Alexander Masters; David Mitchell; Jay Griffiths; Esther Freud; Darian Leader; Bernardine Evaristo; Ann Leslie; Hardeep Singh Kohli; Nikita Lalwani; Sadie Jones; Tom Hodgkinson; Shami Chakrabarti; Ali Smith.
The online calendar of their new short works is on www.42writers.com
Liberty believes that extending pre-charge detention to 42 days is:
• 1. Unnecessary: The Home Secretary has accepted that there has been no case to date where longer than 28 days' detention has been needed. The government's only argument is that the powers might be needed in the future.
• Wrong in Principle: It would fly in the face of our basic democratic principles of justice, fairness and liberty to hold people for over a month on the basis of police suspicion rather than hard evidence and without formally accusing them of any criminal offence.
Innocent people would almost certainly be detained for long periods of time and then released without charge.
Released after six weeks in police custody, the individual may well have lost their job, home and the trust of their community, friends and perhaps even family.
• Counterproductive: Unjust measures like these do not make us safer.
The Home Office's own Equality Impact Assessment states, 'Muslim groups said that pre-charge detention may risk information being forthcoming from members of the community in the future.'
• Better Alternatives: Alternatives suggested by Liberty include:
(A) allowing intercept evidence to be used in criminal trials so that the police can use existing surveillance material to support a charge; and
(B) with judicial oversight, allowing the police to re-question suspects that have already been charged with an offence if new evidence comes to light, suggesting that a more serious charge may be appropriate.
• 2. The House of Lords is expected to vote on the 42-day proposal on 13 October 2008.
It seems likely that the Lords will vote against the measure, as it was nearly universally condemned in the Lords' second reading debate.
If the Lords vote against extending pre-charge detention to 42 days, the government may choose to drop the controversial measure or may attempt to reintroduce it when the bill returns to the House of Commons in November.
3. On 30 September 2008, the Council of Europe Parliamentary Assembly's Committee on Legal Affairs and Human Rights, published a heavily critical report: 'Proposed 42-day pre-charge detention in the United Kingdom'.
4. On 11 June 2008, the House of Commons voted 315-306 to extend pre-charge detention to 42 days as proposed in the Counter-Terror Bill.
5. Since October 2007, Liberty's 'Charge or Release' campaign has focused on building a cross-party political and public campaign against the unnecessary and divisive policy of extending pre-charge detention to 42 days, which would create injustice and undermine community relations.
Liberty's 'Charge or Release' campaign, winner of the Public Affairs News' Voluntary Sector Campaign of the Year in 2008, has the support of the Archbishop Desmond Tutu, political activist Noam Chomsky, designer Vivienne Westwood, former Chief Constable Geoffrey Dear, UNITE, UNISON, CWU, National Union of Journalists, the General Synod and others.