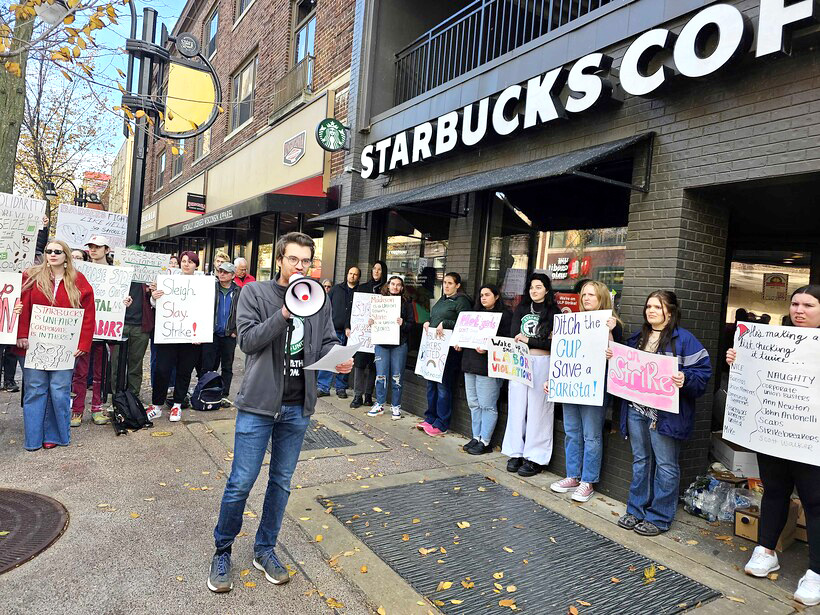 Workers at hundreds of Starbucks branches walked off the job and went on strike during a key promotional event last Thursday, demanding improved staffing and schedules, Starbucks Workers United said on Friday
The walkout comes on the coffee chain's 'Red Cup Day' event, during which Starbucks hands out free red-coloured, reusable, holiday themed cups to customers on their coffee purchases.
The event has typically been a major driver of store traffic, with data from Placer.ai website showing a spike in visits on 'Red Cup Day' over the years.
The union said on Wednesday that workers at stores in 30 cities across the United States had launched 'surprise walkouts,' ahead of the planned strike on Thursday.
The United Steelworkers union, which represents workers at nearly a dozen Starbucks locations in Canada, says it is unaware of any planned walkout activity at any of the locations it represents.
Workers at a location in Kitchener, Ontario in Canada voted to unionise with United Steel Workers USW last Thursday, which brings the number of unionised Starbucks in Canada to 11.
Workers United, which represents more than 9,000 Starbucks employees at about 360 stores across the United States, said last Monday the event was one of the 'most infamously hard, understaffed days' for workers, as drink orders pile up and employees end up on the receiving end of abuse from frustrated customers over long wait times.
Starbucks has nearly 10,000 US company-owned locations and has said that less than three per cent of those stores are represented by a union.
The company said last Monday the union had not engaged in bargaining talks in more than four months.
Starbucks did not immediately respond to a request for comment on Thursday.
Last year, workers at more than 100 US company-owned Starbucks locations held a one-day strike on Red Cup day to protest sackings, store closures and other actions they said were illegal retaliation by Starbucks against them for unionising.
Earlier this month, Starbucks said it would raise hourly pay for its US retail workers by at least three per cent from 2024, which employees criticised, calling it 'tone deaf' given the company's 11 per cent increase in fourth-quarter revenue and the recent wage increases won by autoworkers.
They told management that they need a better deal given the rate of inflation and that a three per cent deal is not high enough to pay bills and look after their basic needs.
The Teamsters sent a message of solidarity to the Starbucks strikers, their statement read: 'The International Brotherhood of Teamsters we stand in solidarity with Starbucks Workers United and were proud to join their picket lines on Thursday.
'The Teamsters Union represents workers throughout the supply chain who make Starbucks' overall operations possible.
'With 1.3 million members at more than 360 local affiliates, Teamsters perform critical work and will stand alongside all workers in the battle for what they need.
Teamsters General President Sean M. O'Brien said: 'The Teamsters Union is proud to encourage all of our affiliates to stand with Starbucks workers.
'Starbucks' Board and executives can only ignore the collective voices of thousands of Starbucks workers for so long.
'This is what happens when greedy CEOs deny workers a contract and union bust. You get a Red Cup Rebellion.
'Starbucks workers across America saw the power of the unified Teamsters victory at UPS this year.
Lynne Fox, International President of Starbucks Workers United said: 'We are deeply honoured to feel the strength of their solidarity as partners opposing unfair labour practices during our Red Cup Rebellion across America on November 16th and beyond.
'Starbucks Workers United has organised more than 9,500 workers at 368 stores across 42 states over the past two years.
'Starbucks workers have conducted unfair labour practice strikes at close to 200 stores, nearly twice as many as last year's Red Cup Rebellion.
'This action is one of the largest expansions of the campaign to date.
'Starbucks Workers United is proud to be an affiliate of the Service Employees International Union.'
Meanwhile, dozens of union organisers and Delta Air Lines workers held signs and chanted during a rally outside of the IBEW Building in Atlanta last Tuesday afternoon.
Members of the Teamsters, the International Association of Machinists & Aerospace Workers (IAM), and the Association of Flight Attendants were also in attendance.
Amanda Goodman Berry, who has been with the company for over 25 years said: 'We just want better: Multiple groups of people have come together to help us win this election. So we are just trying to make life better.'
According to a press release, over 50,000 Delta Air Lines ramp, tower and cargo workers, flight attendants and mechanics from across the company are organising.
Gameli Appiah, a ramp worker at Delta who spoke at the rally with his daughter: 'We want to have quality health care, safe equipment, proper staffing, a voice in the workplace, and respect in the workplace.'
The group aims to educate people on the benefits of joining a union and furthering the movement to protect current and future employees.
Felix McGhee Junior, a Delta employee for over 20 years, said that workers will continue to keep fighting for a possible union election.
He said: 'We're going to push through the holidays and ensure people can get their bags on time that's our job.
'But we're also going to push through to make sure that we can organise.
'Until we have joined a trade union we are in no position to strike or organise any work actions.
'We need to be able to strike we are unhappy at our treatment with many people working here for 20 years or more.'
Elsewhere, more than 40 student groups at Columbia University have formed a coalition to demand the university divest from Israeli apartheid and 'challenge the settler-colonial violence' that Israel has been perpetrating with the support of the United States and its allies.
The groups said in a statement last Friday that the Columbia University Apartheid Divest will seek to force the university to divest its entire economic and academic stakes in the Israeli-occupied territories of Palestine amid the ongoing Israeli war on the people in the Gaza Strip.
The statement said: 'The coalition is a continuation of the Vietnam anti-war movement and the movement to divest from apartheid South Africa.
'Israel's brutal onslaught in Gaza particularly over the past 40 days and its imposition of a crippling siege on the territory have been funded by US taxpayer money and further enabled by financial investments made by institutions like Columbia University.
'Missions will include pressing for cancellation of Columbia's dual-degree partnership with Israel's Tel Aviv University while seeking an end to a project called Tel Aviv Global Centre which it said will certainly restrict the access of Palestinian affiliates of Columbia due to Israel's apartheid policies.'
The Coalition said it will also call on US President Joe Biden and senate and house of Congress members and government officials in the US to support the demands of the majority of Americans to back an immediate ceasefire in Gaza.
It said that true collective safety in the world will only be achieved when everyone, including the Palestinians in Gaza, has access to food, water, housing, education, freedom of movement and dignity.
The statement concluded with a quote from South Africa's anti-apartheid leader Nelson Mandela which reads: 'We know too well that our freedom is incomplete without the freedom of the Palestinians.'
University College and school students have come out and demonstrated across the United States.
The institutions where students held protests include Cornell University in New York, Penn State University in Philadelphia, Princeton in New Jersey, Harvard in Massachusetts, Yale University in Connecticut, and Stanford University.
At Cooper Union College in New York state students, who were holding a protest in support of Palestine and demanding that Israel carry out a ceasefire, were forced into the library by security guards who locked the doors.
It was only after calling university management on the phone and negotiating for over three hours that they were allowed to come out by security.