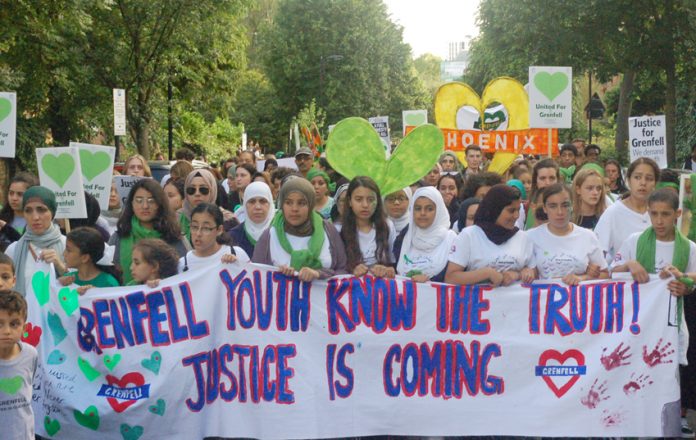 DELEGATES at the Trade Union Congress in Manchester yesterday voted unanimously for Composite Motion 3: Grenfell Tower. The motion condemns the tragedy where 72 men, women and children died while also condemning the use of flammable cladding and the lack of safety regulation.
It states: 'Congress demands that the inquiry focuses on those who produced and installed the cladding, and those politicians who established the system which enabled the use of these combustible materials. 'Congress also demands that the inquiry considers the deregulation of building standards and practices, health and safety deregulation, austerity spending cuts and the consequent short cuts taken when commissioning exteria cladding works, cuts to fire services, and the failure to listen to tenants' organisations.'
The motion calls for a ban on combustible cladding and concludes: 'Congress re-commits to fighting for justice and for holding politicians, contractors and other agencies to account for the Grenfell fire.'
However, it failed to call for what Grenfell survivors are demanding: the criminal prosecutions of those guilty of being responsible for the 72 deaths at Grenfell Tower.
Moving the motion FBU General Secretary Matt Wrack said: 'It was the worst fire since the Blitz. Every single fire safety provision failed. On top of this the building was clad in flammable material – in petrol – who in their right mind would clad a building in petrol?
'Fire fighters were faced with an impossible situation. Every safety feature had been compromised because of the refurbishment. 'Fire fighters put their lives at risk. Behind what happened is a system of deregulation and cuts. 'People who made these decisions need to be held to account.'
Seconding the Motion Maxine Loza of Unite said: 'I am a bus driver that works in the Grenfell community. 'One of our colleagues and his daughter lost their lives.
'We are supporting our members in the inquiry and adding to their demand for a moratorium on the use of that cladding. 'The bigger question is deregulation, people have suffered as a result of the decisions of people in authority, who are culpable for all of this from ministers down.'