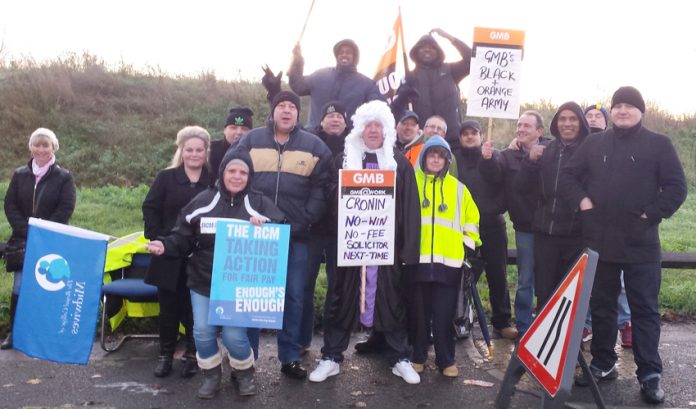 WORKERS at Queen Elizabeth Hospital in Woolwich in south east London were on strike yesterday and are striking again today in a bitter struggle against the privateer ISS, which is attempting to bring in a two tier workforce at the hospital.
Over 200 GMB members, employed by ISS at the hospital as cleaners, security, ward hostesses, caterers, on the switchboard and as porters, are fighting for the same pay rates, weekend enhancements and unsocial hours rates as those directly employed by the Trust.
Pickets enthusiastically waved flags as passing motorists honked their support.
Picket Steven Rosic told News Line: 'Life is enough of a struggle as it is. There is only so much we can take. We have got to stand up for ourselves.
'I am the only breadwinner in the house. My family are suffering, and I cannot allow that to happen. ISS management don't respect their workforce, they are backed by the government. Nobody wants to go out on strike, but unfortunately it's the last resort and our voices have got to be heard.
'There has got to be strike action right across the board. Up and down the country people have got to stand together because that is the only way that this country is going to move forward. Everyone should come out on a general strike.'
Patrick, a GMB shop steward, said: 'The information from inside the hospital is not a lot of regulars turned up to work for ISS, and it's chaos.
'They flew 30 strikebreakers down from Newcastle and put them up in a hotel in Canary Wharf which must have cost a bomb. All this money could have been used for Agenda for Change which is what we are asking for,' he said.
Holding the RCM banner at Queen Elizabeth Hospital, shop steward and midwife, Dawn Amis said: Our service is in crisis. It has never been this bad.
'We are supposed to have eight midwives and we are only three. When we call up for help, we can't get it. It's very stressful and it is putting women at risk. There is much bigger strike action needed to stop this and it's coming, I am sure of it.'
Nadine Houghton, GMB Regional Organiser, said: 'ISS took us to the High Court last Friday to try to bring an injunction to stop the strike going ahead.
'They wasted £50,000 of taxpayers' money trying to stop workers from exercising their right to strike. The judge ruled that Under Article 11 of Freedom of Assembly and Association, the right to strike is a human right and there shouldn't be "deliberately legalistic restrictions" on people's right to strike. That judgement has gone into case law, and is a massive victory.
'Our members are as determined as ever and we will keep fighting until we win.'