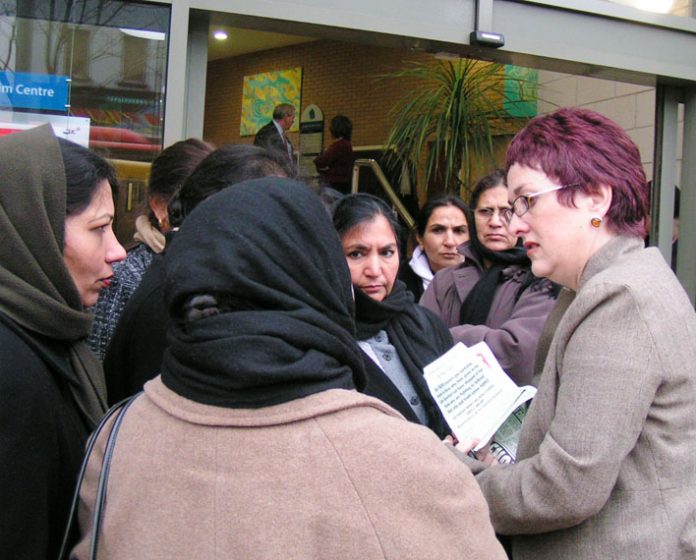 'WE want to know if the TUC agrees with what the T&G has done to us,' Gate Gourmet locked-out worker Sharanjit Grewal said yesterday.
Speaking on the hill at Heathrow Airport, opposite Terminal Four, Sharanjit told News Line that a delegation is lobbying today's TUC General Council meeting in central London.
She continued: 'Do they think it's right that our union leaders should sign a deal behind our backs, agree to 150 compulsory redundancies and cuts in terms and conditions for all workers employed by the company? Do they think it's right that the union has cut off our hardship payments since January 6th when they have put in our cases for employment tribunals which have not yet been heard?'
Parmjeet Sidhu added: 'We want the TUC to carry out its promise. Last year in Brighton delegates at the TUC voted unanimously to give us 100 per cent support. Now we need to see that support. We want the TUC to organise a national demonstration to support us.
Mrs Asha Varma commented on a report in this week's Skyport newspaper that 'hundreds of staff hired to keep Gate Gourmet afloat during last year's industrial dispute have become the latest victims of the catering firm's ruthless policy.'
She said: 'Gate Gourmet is sacking the agency staff who they brought in to do our work. They gave these people a one-year contract and then sacked them after six months with one week's pay.
The union leaders agreed with the company that this should happen, the policy of the TGWU leaders has been to do a deal to help a company that treats workers like rubbish. These TGWU leaders have to resign.'