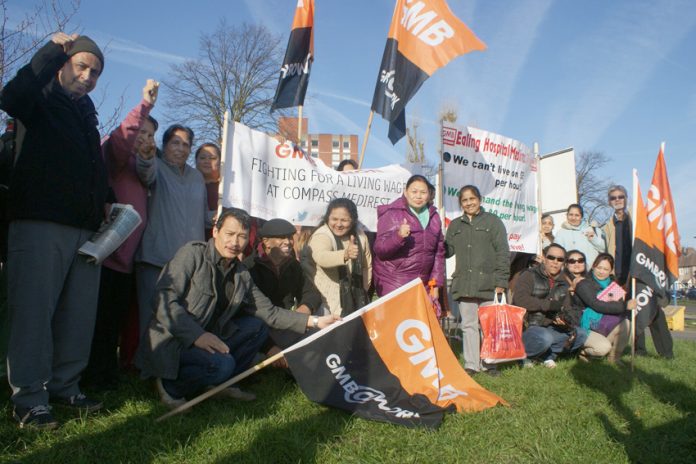 THERE was a strong picket of 80 striking GMB domestic workers, porters and caterers at Ealing Hospital yesterday morning.
The workers were in their fourth day of a week-long strike against their employer Medirest.
They are demanding a living wage of £8.80 an hour, sick pay and annual leave.
Striker Chering Lama told News Line: 'Medirest must accept our demands from April 2013. We can't live on £6.31 an hour. It is shameful that we work for a hospital and cannot get sick pay.
'Central Middlesex, Northwick Park and Hillingdon Hospitals pay better rates than here and they get proper annual leave. We get nothing at Ealing Hospital.
'If they don't give us our demands Medirest should be driven out. The NHS should employ us directly. The whole community should be behind us because so many workers are having their wages cut.'
Charles, a trainee manager at Ealing Hospital came to support the picket. To loud applause, he said: 'You are fighting a just cause and you must win. Why are all London hospitals getting London Weighting and you are not.'
Striker Payal Paul said: 'The strike-breakers from High Wycombe and Barnet Hospitals are getting £9 an hour plus travel expenses and lunch vouchers. The new manager of Ealing Medirest is from Barnet Hospital so he knows how to organise the strikebreakers from there.
'They are not doing their work very well and nursing staff are telling us there are many problems with the cleaning and catering and that vegetarians on the wards have been served meat meals.
'We started our strike action in February and since then have been offered only a 20p pay increase in April and a further 20p in October. This is not acceptable and we will continue our action until we win.'
The picket is outside Ealing Hospital from 7.00am until 3.30pm each day.