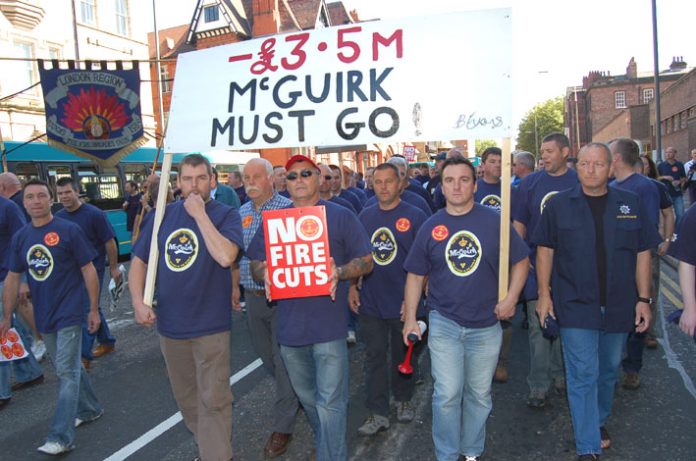 'Lives were lost because there wasn't enough equipment to get people out – it's our fire service,' said Chris Findon yesterday, the owner of the next door hotel to the one destroyed in a fierce blaze on Saturday night.
Newquay hotelier Findon added yesterday: 'We are all very upset. We did everything we can to get people out.'
She was speaking as construction crews were making safe the Penhallow Hotel, as search teams waited to begin looking for two people still missing. One man died and five people were injured in the blaze at the Penhallow Hotel on Saturday morning.
Cornwall Fire Brigades Union slammed cuts which meant only one pumping appliance could be used and an aerial platform appliance had be brought in from Plymouth, 50 miles away. The FBU said the fire service in Cornwall was 'seriously undermanned and understaffed'.
Cornwall FBU chairman Mike Tremellan said it was clear firefighters would have wanted every appliance available but 'only one pump was available due to a lack of staff'. He added that the platform appliance had to be fetched from Plymouth because the one in Newquay and another in Truro were both being repaired, as unfortunately, they had both broken down at the same time.
Cornwall North Liberal Democrat MP Dan Rogerson said yesterday: 'Most of my constituency is covered by retained firefighters and has been for a very long time.' He added that 'cuts in fire cover meant that appliances couldn't get there quick enough'.
'It's been a very traumatic time' for the rescue services, he continued, adding that 'all the voluntary organisations did a wonderful job' alongside the professional bodies.
Penzance, Truro, Newquay, St Austell and Bodmin are all daytime-only staffed stations. Cornish fire crews have been campaigning against major cuts. Thirty-five wholetime firefighter posts are being cut – one in six of the wholetime workforce of 206. Cornwall is now the only county in England without any around-the-clock immediate response fire crews.
Meanwhile, in October 2006, the Fire Precautions Act 1971 and the Fire Precautions (Workplace) Regulations 1997 were scrapped, along with many other fire safety regulations embedded in other statutes such as Residential Care Homes and Licensed Premises etc. Fire certificates have been scrapped, and employers are now solely responsible for fire safety within their workplaces.