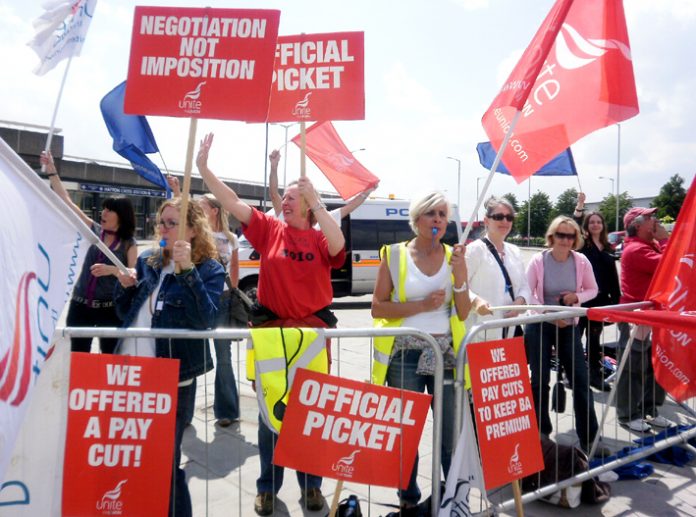 THERe was a family day event for the striking BA cabin crew at Bedfont Football Club yesterday, with bouncy castle, face painting and other fun events.
Striking Unite members 'Paul' and 'Steven' said: 'We've been denigrated by the mass media as overpaid but we've got mortgages and kids to support like any other working family in Britain trying to make ends meet in a recession.
'A lot of people have been given misinformation by BA. We've been painted as bad people, we're not.
'A hundred and fifty flights on average are being cancelled every day.
'When crew are away from base British Airways counts the crew as working when they are not. The figures are being massaged.
'You've only got to walk round the airport and see how many airplanes are stationary, grounded.'
They added: 'Every other unionised workforce is watching this.
'If Walsh wins it, it will send a message to the City and other employers that they can do what they want. Being in a union will be worthless.
'Workers will have no rights and they'd have to be grateful to have a job.
'Other British Airways workers are being told if they don't volunteer to scab on us, their job will be on the line.
'Something has to give, either us or him.
'If he sacks us there will be a civil war in England.
'He would have loved to have sacked us by now.
'If he goes back to the courts it shows how desperate he is.
'He claims he has £1.5 billion in reserve. This was exposed during the volcanic ash crisis.
'It's not about cost-cutting but about smashing the union.'
A banner from the PCS union was brought to the Bedfont Football Club.
Austin Harney, PCS union rep at the Ministry of Justice and a member of the union's South East Regional Committee, said: 'We are living through difficult times.
'Wages and jobs are under threat.
'We are not happy with the anti-union laws.
'We consider an injury to one is an injury to all and that is why we have come to support the British Airways cabin crew.
'Terms and conditions at work are now threatened more than ever before.
'It is important that we start the struggle now, before it is too late.
'One hundred thousand of us earn less than £20,000 a year.
'I personally believe in a return to solidarity action. The Labour government should have repealed the laws.
'It must be made legal for us to support other workers.
'I am in favour of the PCS striking with the British Airways workers and we have donated £800 to their hardship fund today.'