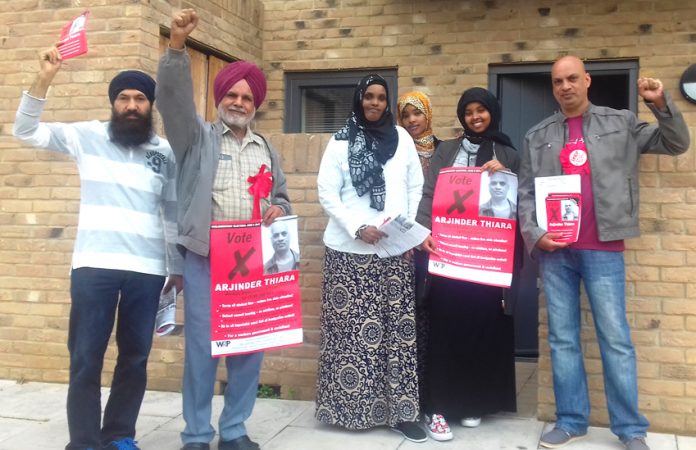 CAMPAIGNING on the big Golf Links council estate, five minutes walk from Ealing Hospital, the Arj Thiara Workers Revolutionary Party for Ealing Southall canvas team got great support yesterday, with hundreds of tenants pledging their vote.
Bus driver and Unite member Omar Mahmoud said: 'I agree with Arj, we've got to save Ealing A&E. The Labour MP Sharma is not doing anything to save it. What Arj is saying is true, the trade unions have to fight to save our hospital.
'When my small son got a high fever and vomiting we had to take him all the way to Northwick Park because they closed Ealing paediatric care last year. We protested outside against the closure.'
Sara Aden, a Southall College student, said: 'We are telling everyone to vote for Arj. I was in the campaign to save maternity and paediatrics. We must save the A&E.' Thesingham Mohan said: 'We want an MP who will save the hospital. My whole family will vote for Arj.'
Candidate Arjinder Thiara said: 'They are actually running down Ealing Hospital as we speak. I had to to travel all the way to the Royal Free hospital in Hampstead to visit my very sick friend Suresh Chahil last night because they've already run down facilities at Ealing.
'From the current 309 beds that are still at Ealing they want to cut it down to 50 with no operating facilities, no intensive care, no blue light ambulances and no A&E. The campaign is going excellently well. We've recruited Young Socialists members today who are joining the campaign and are very enthusiastic.'