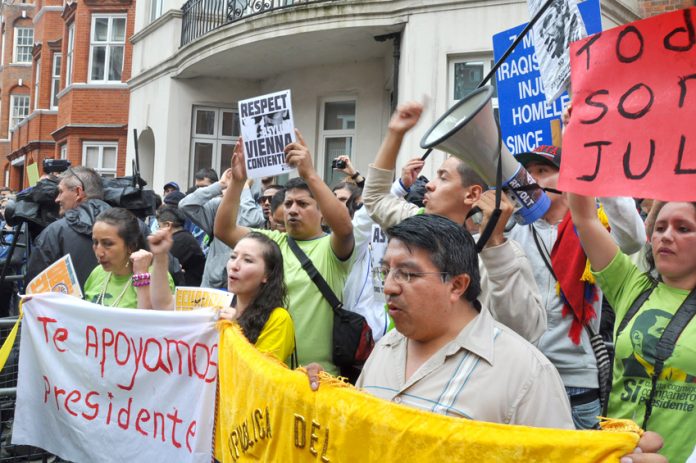 THE US Justice Department is preparing charges against WikiLeaks founder Julian Assange, whose website published thousands of classified US government documents.
US federal prosecutors inadvertently disclosed the existence of a sealed indictment in a federal court filing in an unrelated case, WikiLeaks said Thursday.
The court document, which prosecutors say was filed by mistake, asks a judge to seal documents in a criminal case unrelated to Assange. US officials had no comment on the disclosure and the exact nature of the charges against Assange was not immediately known.
Prosecutors sought to keep the charges confidential until after Assange's arrest, saying the move was essential to ensure he did not evade or avoid arrest and extradition in the case. US officials have previously acknowledged that federal prosecutors based in Alexandria, Virginia, have been conducting a lengthy criminal investigation into WikiLeaks and its founder.
Ecuador is close to evicting Wikileaks founder Julian Assange from its UK embassy, according to reports. Senior officials in the administration of US President Donald Trump, including Secretary of State Mike Pompeo, have publicly called for Assange to be aggressively prosecuted.
Assange and his supporters have periodically said US authorities had filed secret criminal charges against him. Assange took refuge in Ecuador's embassy in London in 2012 after facing a warrant for arrest following allegations of sexual assault and rape from the Swedish government. He has denied the allegations, and the investigation was closed last year.
However, the 47-year-old Australian computer programmer has stayed in the embassy out of concern that he would be extradited to the US to be prosecuted for publishing classified documents that were leaked by American whistleblower Chelsea Manning. Ecuador's president, Lenin Moreno, said in July that he was planning to withdraw asylum protection for Assange and evict him from its UK embassy.