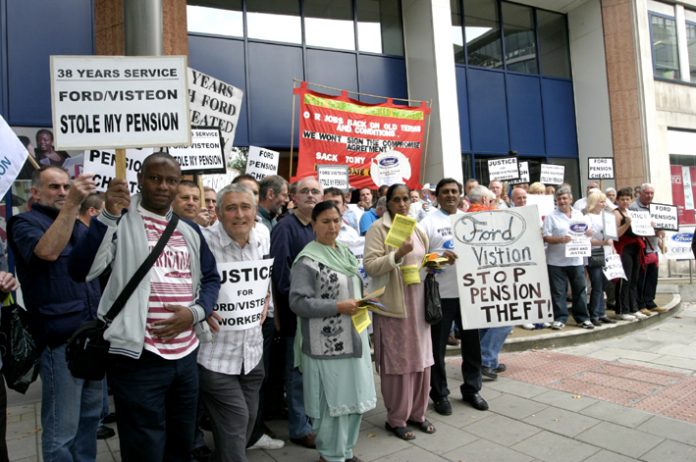 Over 80 sacked Visteon workers, Visteon retirees and a delegation of sacked Gate Gourmet workers lobbied the Unite union head office in Holborn, central London yesterday.
The Visteon workers and retirees are calling for their union leaders to take action to restore their pensions in full.
The sacked Gate Gourmet workers are still fighting for their jobs back after four years and demanding Unite joint general secretary Tony Woodley be sacked over his betrayal of their struggle.
They are taking legal action against the TGWU leaders (Now in Unite).
Former Visteon Belfast Unite convenor John McGuire told News Line: 'We want to make sure Unite take legal action to protect our pensions.
'Ford and Visteon conspired together. We ended with a situation when Visteon UK went into bankruptcy with a £200m deficit.
'That has resulted in all pensions being reduced by between ten to 40 per cent.
'We were sacked at six minutes notice in 2000. The "mirror pension" guarantee has been broken leaving people on the poverty line.
'We are very angry and want justice. The Unite leaders should do more.'
Ex-Visteon Enfield worker Maxine Hill said: 'Over the years I've realised how the unions collaborate with the big companies.
'They do the best deals for themselves and the companies involved.
'The government doesn't care. We approached our local MP in Enfield several times and got no genuine response or support.
'Ford and Visteon have done the dirty on us because we have no protection in this country.'
Ex-Visteon Basildon worker Trevor Bull added: 'We're fighting to stay out of the PPF (Pension Protection Fund). We lose ten per cent as a minimum, for a start.
'In 2000, Visteon spun off from Ford. We were promised we would keep our terms and conditions, so our pension should be the same.
'We want the full support from Unite because we feel they aren't doing enough.
'We want things out in the open not all this cloak and dagger stuff.
'We're worried about the PPF because if a new government gets in they could abandon or alter the benefits.
'Secondly, in America a few years ago the supposedly PPF collapsed and a lot of people lost their pensions.
'We want Ford to take back the pension and pay us what we are due.'
Fellow ex-Basildon plant worker Dennis Varney stressed: 'It's deferred wages. We paid five per cent every week. It was not negotiable, we had to pay it.'
Gate Gourmet sacked worker Surjit Gill said: 'It's four years since they sacked us all from Gate Gourmet. We are still fighting to get our jobs back.
'The union leaders treated us badly. Behind our backs they sold us out.
'They took the side of the company not the workers.
'Even the hardship "hush" money they gave to two British Airways stewards was to save their own jobs.'
The Visteon lobbyists were invited in to a meeting with Unite leader Woodley.
The former Unite convenors subsequently had a meeting with Woodley and other Unite officials.
Belfast's John McGuire said: 'They said they are going to take up our case and give us full support but they haven't found a legal angle yet.
'There is to be another meeting in four weeks.'