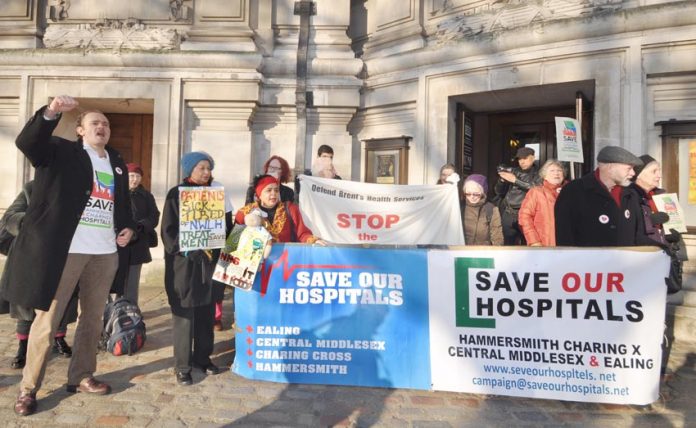 'WE'LL do whatever it takes to save our hospitals,' GMB National Officer for the NHS Rehana Azam told News Line yesterday.
She was responding to the announcement by NHS North West London that it intends to close Charing Cross, Central Middlesex, Hammersmith and Ealing District General Hospitals.
The decision was confirmed at a joint committee of Primary Care Trusts in Westminster at 5.30pm on Tuesday evening.
NHS North West London claimed the changes would save money and 'improve care'.
The Accident and Emergency Departments at the four hospitals are to close and be replaced by 'urgent care' centres, where 'a GP will always be on site'.
Rehana Azam GMB National Officer for the NHS, told News Line yesterday: 'When you look at the huge population covered by these hospitals, the implications of the closures are going to be massive.
'I still can't understand the rationale behind the decision, other than that it is financially motivated and this government is putting costs before people.
'There has been a longstanding save the NHS campaign and we have been gaining quite a lot of traction recently, but clearly they haven't listened to those arguments.
'It's a similar situation to what is happening in South London with Lewisham Hospital.
'People will certainly be wanting to take the struggle forward. The campaign doesn't end here. We'll do whatever it takes to save our hospitals.'
A BMA spokesman told News Line: 'We are looking at the detail of these proposals, but we already know that doctors have significant concerns about the potential impact on patient care.'
Hank Roberts, ATL President and Secretary of Brent ATL, told News Line: 'The barefaced cheek of these individuals to say that this is about improving healthcare, is a lie that Goebels would have been proud of.
'The health of the majority of people in this country is set to get worse as their standard of living is deliberately lowered by this government and now this is being compounded by worse hospital provision.
'I think that every rightminded person and individual should oppose what is being done to our health service and the government's proposed full on privatisation will only make it worse.
'Any action that can be taken to defend our hospitals should be taken.'
Tom Davies, Vice President Ealing NUT, told News Line: 'Although they say the closures will save money, I don't know that they actually will. But the most important thing is that it will certainly not improve care.
'It will put health at risk, as treatment will just not be available.
'As we all know, waits in A&E are already too long. the thought that you would have to go miles for any treatment at all is actually a nightmare.
'I can't believe this decision. It is a financial cut, a disastrous cut, which must be resisted and defeated if we are to survive.
'The unions are our front line of defence and the people of the area are the victims. They must come together to defeat these cuts.'