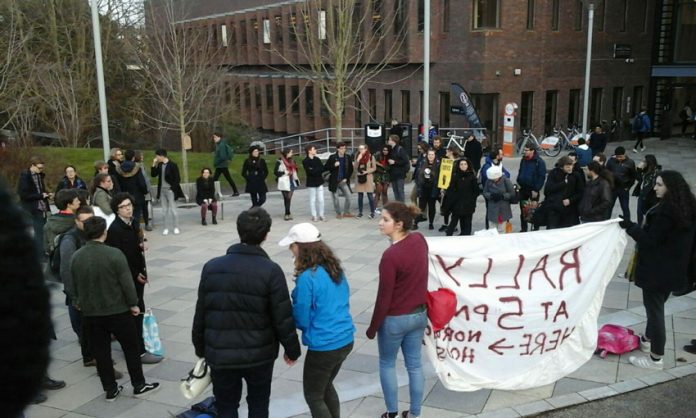 THE VICE Chancellor of Oxford University withdrew her support for Universities UK's attack on lecturers' pensions yesterday, joining dozens of others, including Cambridge, to have done so. With picket lines outside 64 universities, some of which are occupied by students in support of the striking lecturers, Oxford vice-chancellor Louise Richardson called for a U-turn at a special meeting of the university's governing body.
Prof Richardson had previously been a key supporter of Universities UK's planned scrapping of the Universities Superannuation Scheme for lecturers' pensions, which would cost lecturers an average of £10,000 a year in retirement. But in her email to staff, sent on Wednesday, she wrote: 'In the light of the depth of feeling of so many colleagues, we will convene a special meeting of council today at noon and will be recommending that council reverse its response to the UUK survey in line with congregation's resolution.'
Since the strike began, 30 universities, including Cambridge, Bristol, Essex, Goldsmiths and Loughborough, have called on Universities UK to scrap its plans. Responding to Prof Richardson's email, UCU General Secretary Sally Hunt said: 'This is a very welcome decision by the University of Oxford. I would like to thank everyone who has campaigned so strongly in support of the union's position.'
UCU pickets at Imperial College in West London yesterday were confident they are winning. Senior lecturer in the physics department Tim Evans told News Line: 'This is the first time I have been on a picket line and I've worked here for 25 years. The issue is so clear cut, the state of the pension funds is being deliberately misrepresented by the employers. We are academics, we can do the maths. 'There is a big difference between those at the top and those at the bottom. I'm with continuing the strike during the talks, the union has given enough already.'
UCU rep Rod Sloroch said: 'The talks resume today. The employers have shown they are incompetent and incoherent and divided between those who want to smash the union and those who want to make a settlement.' Students are occupying many universities in support of the the lecturers, including at Exeter, Bath, Bristol and Leicester.
On Monday morning, around 20 students occupied meeting rooms and a corridor in Northcote House in University of Exeter. The occupiers forced a planned meeting of senior management to be held in a different part of the building. They released a statement, beginning with the following lines: 'We are a group of Exeter University students in support of the UCU strike and the broader fight against the commercialisation of higher education, advocating for a democratised educational system where student, academic and staff voices are empowered. 'UUK doesn't represent the interests of British education and all of those who take part in it.'