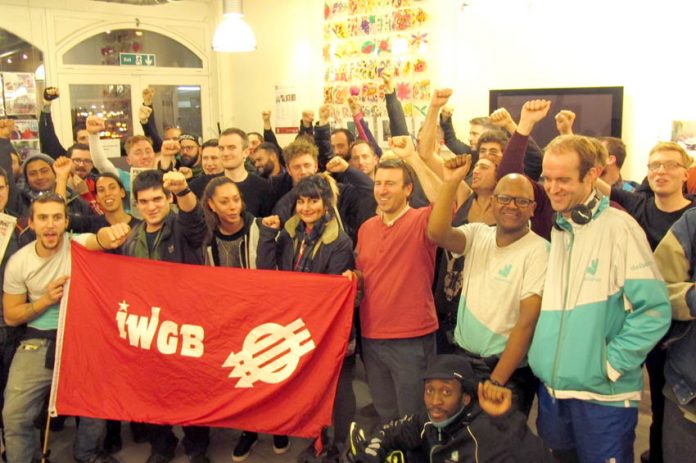 UBER Eats and Deliveroo drivers are now joining McDonald's, TGI Friday's and Wetherspoons workers in a day of strike action tomorrow to demand a £10 an hour minimum wage. Deliveroo and Uber Eats announced yesterday that they will strike on the same day as staff from McDonald's, Wetherspoons and TGI Friday's.
In the first campaign of its kind, the strike has been co-ordinated across the country in a bid to maximise impact. Staff are highlighting poverty wages and demanding at least £10 an hour.
So far, action has been confirmed for a number of branches of McDonald's in London and two branches of Wetherspoons on the south coast, as well as branches of TGI Friday's. Deliveroo and Uber Eats drivers are demanding £5 per drop and £1 per mile as a minimum rate.
Matt Rouse, 22, works at a Wetherspoons in Brighton. He said: 'We're excited and happy to be going on strike. I've been inspired by my co-workers as we stand together to call out injustice in our workplaces. 'We are determined to stand together and make our demands for £10 an hour for all, and union recognition heard. 
'This is only the beginning, we will keep fighting for everyone, for better wages and rights for hospitality workers across the country.'
Staff from the two Brighton branches – the Bright Helm, and Post & Telegraph – will walk out tomorrow. They will be joined by staff from TGI Friday's branches in Milton Keynes, Covent Garden and Stratford Westfield.
McDonald's staff will also walk out from the branches in Brixton, Crayford, Cambridge and Watford. And Uber Eats workers will join the action in Brighton, Bristol, Cardiff, Glasgow, London, Newcastle, Plymouth and Southampton.
Times and Places of Actions are: • 00:01-01:00 Brighton: Workers at the two Wetherspoons pubs going on strike will rally with community supporters • 08:00-09:00 Brixton: Brixton Workers at the McDonald's will rally with community supporters
• 11:00-12:00 Leicester Square: Striking workers and hospitality workers (Including McDonald's, TGI Friday's, and Wetherspoons strikers, international fastfood workers & others) will come together for a rally to demand improved working conditions across the hospitality industry • 17:00 Cardiff: Uber Eats strikers will meet at 17:00 Queens St McDonald's • 12:00 Glasgow: Uber Eats strikers will rally at George Square • 17:00 London: Uber Eats Strike at Aldgate Tower • 18:00 Glasgow: Uber Eats strike evening rally at George Square • 18:30 Brighton: Community rally in support of striking Wetherspoons workers.