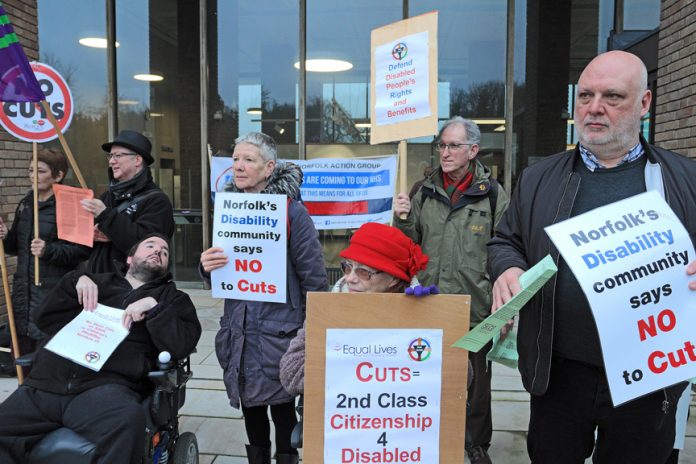 THE TORY government has launched an all-out assault on the poorest and most vulnerable sections of society, slashing disabled people's money, cutting child tax credits while abolishing housing benefits for the under 21s, all in the same week!
The four key attacks to the tax and benefits system coming into force this week are:
• Housing benefit has been removed from claimants aged between 18 and 21.
• Savage cuts for disabled people came in to force yesterday. Anyone now filing a new claim for employment and support allowance (ESA) will only get £73.10 a week, instead of £102.15, a cut of £29.05 a week.
• A decision to only pay out tax credits or universal credit payments for a maximum of two children per family will leave the poorest families almost £3,000 a year worse off.
According to campaigners this will push as many as 200,000 more children into poverty.
• Meanwhile Universal Credit is being rolled out. It is a failed system which rolls six separate benefits into one. Rather than the benefit claimant's landlord receiving rent directly, the claimant receives a lump sum directly into their bank account. It is then up to the claimant to decide whether to pay rent, heat or eat as the money is not enough to do all three.
On the changes enforced this week where families will only get child tax credits for their first two children, Child Poverty Action Group (CPAG) chief executive
Alison Garnham said: 'This is a particularly pernicious cut because it suggests some children matter more than others.'
She added: 'It's also illogical because no parent has a crystal ball. Families that can comfortably support a third child today could struggle tomorrow and have to claim Universal Credit because, sadly, health, jobs and relationships can fail. Surely children should not have their life chances damaged because of the number of siblings they have.'
Among those affected will be families with more than two children who are not currently on benefits but who might need to claim in future because of unforeseen redundancy, illness, separation or death, CPAG researchers warn.
Child Poverty Action Group adds: 'It may also leave women who become pregnant with a third child, for example through contraception failure, with a difficult choice between moving into poverty and having an abortion.'
On the £30 a week cut to disabled people's money, two-thirds of disabled people who currently rely on ESA said in a survey that they believe that if their benefit was cut by £30 a week their health will suffer.
Disability Rights UK said: 'A £30 a week cut in income is intolerable, especially when disabled people often live in deep poverty. These cuts will make poor disabled people poorer, and do nothing to help support them in their hunt for jobs and careers.'
Disabled people are over twice as likely to be living in food poverty than able-bodied a new report released yesterday has found. These alarming findings have sparked concerns that people with disabilities are being 'left behind in society.' 
The Equality and Human Rights Commission found disabled people in the UK face a lack of equal opportunities in both education and employment. Revealing what the Commission described as 'failure by the government', the report found that 18 per cent of disabled people aged 16-64 across the UK were living in food poverty.
Meanwhile a new study shows that whether a child receives a free school meal is an 'unreliable measure of poverty'. Researchers at St Mary's University say free meals can be a 'misleading' marker for deprivation in schools. The study warns of the need to support the 'hidden poor'. This includes the huge rise in working families which are living in poverty.
Office for National Statistics figures recently showed two-thirds of children in poverty are now in working families. Among children identified as being in poverty, 67% are in families with at least one parent working, the highest recorded level.
Head researcher Prof Stephen Bullivant said: 'Class inequality is a real problem in Britain affecting children's attainment. This data fails to understand different degrees of poverty.'