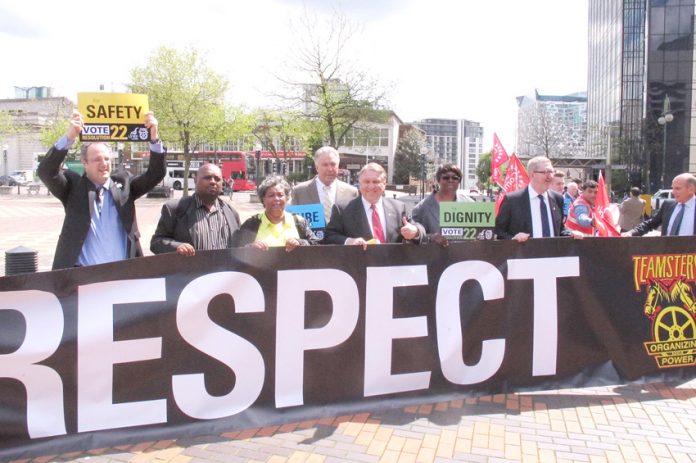 TEAMSTERS Union leader James Hoffa stood side by side with the UK's Unite trade union in Birmingham yesterday mid-day against National Express, the company that tolerates trade unions in the UK but is fighting furiously against them in the USA.
Hoffa was in Birmingham for a joint lobby and intervention by Unite and the American Teamsters Union at the National Express Annual General Meeting of Shareholders at the International Convention Centre, Birmingham.
James Hoffa told the press briefing: 'What this lobby is pointing out is the double-face of this company. They treat workers in Britain with dignity, yet in America it's quite the opposite, it's so wrong. That's what we are going to point out today to the shareholders.'
A group of Unite members from the West Midlands joined the briefing after taking a break in negotiations with National Express in the region.
Hoffa welcomed them, saying: 'We want dignity and respect for all workers. Union rights are human rights, that's why it's so important we work together.
'I wish you well with your negotiations. We all need respect. Together we are stronger. Unite and the Teamsters – 2.8 million members!'
'I'm absolutely delighted to be standing here in Birmingham with my good friend Jim Hoffa,' Unite General Secretary Len McCluskey told the press conference.
He added: 'We're looking for respect and dignity for working people. Here in the UK we have a company that behaves in a cordial fashion and yet in America their behaviour is despicable.
'We will be lobbying the shareholders in a fight for justice that should exist for all workers. We will be taking this campaign into Germany and Portugal.
'We hope common sense will prevail and they will sit down and discuss with us and that they will have good relations with the Teamsters. I'm confident that we will be successful.'
McCluskey pledged to the West Midlands Reps: 'You have the full support of Unite. It's important that we defend workers' rights everywhere.'
Earlier, introducing the briefing, Teamsters Director of Organising, Jeff Farmer introduced Durham School Services (a National Express subsidiary) Teamsters members Lester Hawthorne, Evelena Moultrie and Patricia Chillis.
Farmer explained that these workers are at different stages of organising for the Teamsters in their Durham School Services workplaces in Illinois, South Carolina and Florida owned by National Express which was waging a war against the trade unions.