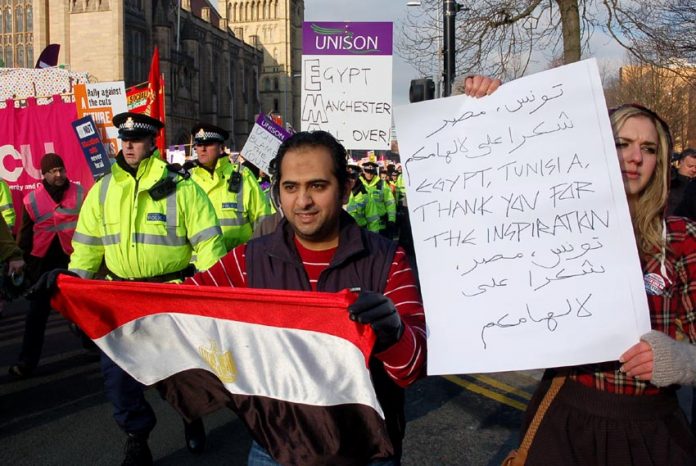 TENS OF THOUSANDS of anti-Mubarak protesters in Tahrir Square, Cairo were attacked by pro-Mubarak thugs and plain-clothes police yesterday afternoon, as Egyptian Army soldiers looked on.
Although the army had put up barricades around the square, they let the pro-Mubarak thugs through.
Witnesses of pro-Mubarak rallies held away from the square earlier yesterday, said organisers were paying 100 Egyptian pounds ($17) to thugs to join the attacks.
Many among the pro-Mubarak crowd were policemen in plain clothes and protesters seized police identification cards from some of them.
'Members of security forces dressed in plain clothes and a number of thugs have stormed Tahrir Square,' three opposition groups said in a statement.
Mohammed el-Belgaty, a member of the Muslim Brotherhood, said: 'Peaceful demonstrations in Tahrir Square have been turned into chaos.
'The speech delivered by President Mubarak was very provocative as he used very sentimental words.
'Since morning, hundreds of these paid thugs started to demonstrate pretending to be supporting the President.
'Now they came to charge inside Tahrir Square armed with batons, sticks and some knives.
'Mubarak is asking the people to choose between him or chaos.'
Earlier, an Egyptian army spokesman said on state television: 'The army calls on protesters to go home to restore security and stability in the street.'
Mubarak's announcement late on Tuesday drew angry jeers from thousands who again spent the night in the Tahrir Square.
Mubarak said Egypt is 'the nation I have defended and in which I will die'. He said the country had a choice 'between chaos and stability.
'My first responsibility is now to bring security and stability to the nation to ensure a peaceful transition of power,' he said to boos from the tens of thousands gathered in Tahrir Square.
Tomorrow has been dubbed 'The Friday of Departure' for Mubarak.