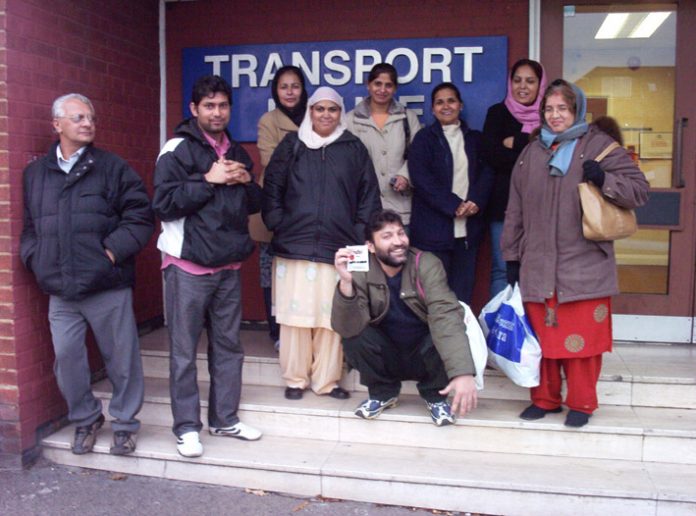 THIRTY locked-out Gate Gourmet workers gathered at the TGWU union office in Hillingdon yesterday, angry that they were not being given their hardship money for Xmas, which was due.
Mrs Saroay told News Line: 'We are very angry because the union is refusing to give us our hardship payment before Christmas, it was meant to be paid today but they are not giving it to us. I can't arrange anything for my home because I have no money.'
Jasbir said: 'I need the money before Christmas so I can buy something for my two children. I need the money for food and presents for my kids, I am so upset. I have to pay my bills, we are all going in to the union office together to demand payment.'
Mohinder said: 'They told me they're not giving hardship money because I demonstrated outside the union office, I cannot accept this.'
Mrs J Bamra said: 'I am so angry that the union leaders are paying out those that signed the Compromise Agreement their redundancy cheques from Gate Gourmet today but there is nothing for us, who are fighting for our jobs back.'
Suki said: 'We don't know what is going on, the union leaders are misleading us because they won't give us straight answers about when we'll get our hardship money. The union tells us nothing they don't organise anything for us so we can win our jobs back.'
Jasvinder said: 'Sixty people from Poland have taken jobs in Gate Gourmet but those who have signed the compromise deal are still waiting for a date to start their jobs. They've been tricked by Gate Gourmet.'
Parmjit Bains told News Line: 'We went into the Hillingdon offices of the TGWU and saw Mr Dhillon (senior Gate Gourmet shop steward) to ask him for this month's hardship money.
'He said he would not talk to us because he claimed we are going against the union, this is not true we are not going against the union. He then said that we may receive it next week through the post but he wouldn't talk to us properly, he was very rude.
'We said we need the hardship money before Christmas, we said we are not against the union, we are against the deal.
'They are giving compensation money to the scabs, who signed the compromise deal.
'We are going to spend Christmas in the dark, we can't celebrate Christmas without the money, they don't care about our emotions or our feelings. We want the whole union to stand up for us, we can't be treated like this.'
Mrs Gupta said: 'We are so angry with senior shop steward Dhillon, he told us you are not union members anymore because you speak against the union and you don't deserve hardship payments.'
It seems that the union leaders were angry that only 200 have signed their Compromise Agreement with Gate Gourmet, while up to 560 refused and are taking their cases to Industrial Tribunals.
Yesterday the TGWU leaders removed the appeal for the Gate Gourmet Hardship Fund from their website.