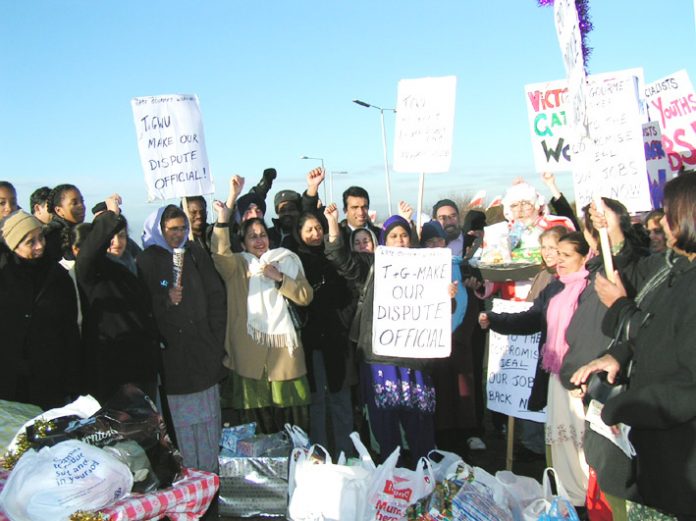 THE MTA (Metropolitan Transport Authority) and the Governor forced this strike: call them to stop it says the TWU transit workers trade union.
The TWU local 100, New York transit union is on strike and standing up to the city bosses on wages, pensions and health care.
Its latest statement spells out: 'For generations, a job in New York's subways and buses was the first step on the road to the American dream.
'The MTA is telling us Not Any More. That's what this strike is all about.
'We know how hard things are for New Yorkers. It's hard to get around New York when the trains and buses aren't rolling. It's hard for us and our families too.
'We are losing wages, and the Mayor wants every transit worker to pay fines of hundreds of thousands of dollars. Easy for a billionaire. But we're working people like you.
'So why is the strike still on? Ask the MTA and Governor Pataki.
'They are the ones who shut down New York's lifeline. They came in at the last minute with a take-it-or-leave-it 10 year 4 per cent pay cut for all future hires.
'They risked your livelihood and the whole NYC economy over a proposal that top legislators in both parties say is illegal. (Times, December 20)
'It's up to the Governor and the MTA to get things rolling.  Call them. Tell them to Stop it. We need real leadership to get the buses and trains  rolling again.'
Local 100 TWU leader Toussaint has accused Mayor Bloomberg: of shaming New York City.
He said on Wednesday: 'Yesterday you used your position as Mayor of New York to call us "thuggish" and "selfish". How dare you?
'Our children turn on the TV to see the Mayor denouncing their parents as "morally reprehensible". Have you no shame?
'As you know better than most, this strike was forced on us by the MTA. You know this because you share much of the blame.
'It is your provocative rhetoric about what givebacks we transit workers must accept for the next generation of transit – our children and new immigrants – that has pushed our members beyond the limits of their patience.
'You all but demanded this confrontation, and now you act angry and surprised.
'You owe all New Yorkers an apology for poisoning the atmosphere around difficult labour negotiations.
'You call us "irresponsible". New York City and New York State have slashed their subsidies for mass transit.
'Mayors and Governors have created a seemingly permanent Structural Deficit for transit which much be filled by costly borrowing. Wall Street has profited, but Main Street has suffered.
'But you knew that already from your previous career. Now that the debt-servicing bill has come due, the MTA demands that we pay the price: worse health care and worse pensions.
'But what about our conducting an "illegal" strike? What about the law? You are all over the media with high-minded talk about "illegal" behaviour, castigating criminals and screaming that no one is above the law.
'Your hypocrisy knows no bounds. You must hope everyone has forgotten your biography: "Bloomberg on Bloomberg". You boast on Page 59 on how you started your rise to great wealth, great enough to enable you to buy the Mayor's office twice.
'You set up your office "…all without permission, violating every fire law, building code and union regulation on the books."
'I guess illegality is in the eye of the beholder. A confessed lawbreaker has the gall to lecture 34,000 hard working people whose only crime is standing up for their families and for dignity and respect on one of the toughest, most dangerous jobs in New York.
'Stop using transit workers as a punching bag to undo decades of pension gains for city workers. Stop demonising transit workers in the eyes of the public.
'Stop bullying and start acting like the Mayor you promised to be.'
The MTA has been surprised at Local 100s Unity and its response has been to launch a disinformation campaign to try to weaken  the strike.
Local 100 has hit back with 'Maybe the MTA believes that TWU Local 100 is split  into a dozen warring factions.
'After all, that's what the press was reporting, quoting anonymous flyers. Maybe it was just wishful thinking on their part.
'Whatever the reason, the MTA expected thousands of transit workers to cross lines and report to work: IT NEVER HAPPENED.
'Instead, the MTA was stunned to see thousands of union members all over the system picketing, chanting and standing together.
'One Union – Invincible. So they did what they do best: they lied. They got their friends in the media to help them spread disinformation and rumours and they started a dirty tricks campaign in order to increase intimidation and scare tactics.
'1. DISINFORMATION: A thousand strikebreakers.
'THE TRUTH: A couple of hundred, maybe; mainly scared provisionals and probationary employees, mixed with a few disgruntled and bitter workers. The TA has been making shameful threatening phone calls to probies and provisionals.
'2. DISINFORMATION: Trains ready to move.
'THE TRUTH:  Management is just turning on train lights to scare people.
'3. DISINFORMATION: TWU International orders members to cross picket lines.
'THE TRUTH: The International did what they were ordered to do by the court. The judge prohibited them from "engaging, causing, instigating, inciting, or in any way aiding or abetting or encouraging or condoning a strike." He told them they had to "notify all members of Local 100 of of their obligation to cease any and all strike or strike related activity." That they did.
'In the 1980 strike, the International did the same thing, while the Local kept the lines strong for 11 days.
'Nobody in the TWU has ever ordered Union members to scab.
'4. DISINFORMATION: Everybody will be fired.
'THE TRUTH: Just another rumour fanned by TA brass. Nobody can be fired for striking. Only for misconduct.
'DON'T FALL FOR MANAGEMENT TRICKS
'STAY STRONG – STAY UNITED.'