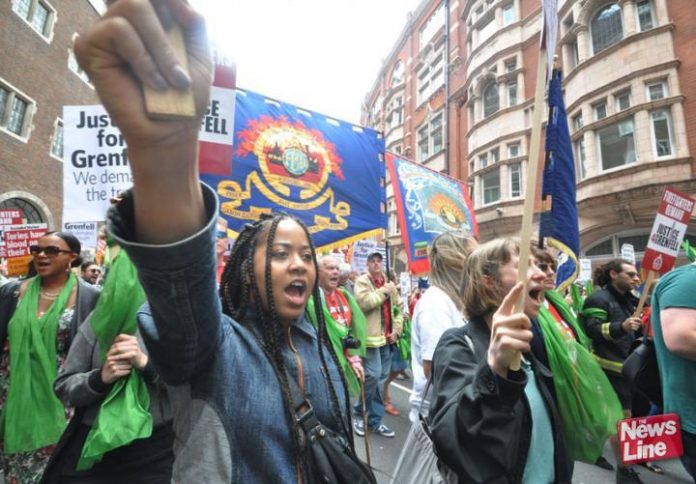 'WHAT steps will they take in response to concerns over the level of toxins found at the Grenfell Tower site and calls for survivors, firefighters and local residents to undergo immediate tests to monitor any damage to their DNA?' Labour peer Lord Kennedy of Southwark asked in the House of Lords yesterday.
He asked Lord O'Shaughnessy, Under Secretary of State for Health and Social Care, who claimed that a DNA test cannot be used to 'determine if those who were exposed to contaminant suffered any damage.'
Lord Kennedy pressed about a report by Professor Anna Stec, a world leader on toxicology, which exposed the fact that after the fire the soil around the area around Grenfell Tower was contaminated. Kennedy said: 'Can he then confirm if it is true or not that Professor Anna Stec did privately urge Public Health England and the Department of Health to organise a range of tests to ensure a potential health risk, to be properly assessed and Public Health England decided not to do that until on receipt of Professor Stec's report which we expect sometime next year.
'Is he also aware of what is now being called the "Grenfell Cough" which Professor Stec has said seems to indicate a high level of contaminates?' O'Shaughnessy claimed that levels of asbestos and other contaminates in the air are not above average for London.
Baroness Williams of Trafford interjected: 'The concentration has been on the affects of the cladding of the tower, does the Lord appreciate that there are thousands and I mean thousands of chemicals involved in furniture and furnishings being burned. Whilst the air maybe clear, I understand that the soil may be contaminated and it is not just by inhalation that people become poisoned, but by skin absorption.'