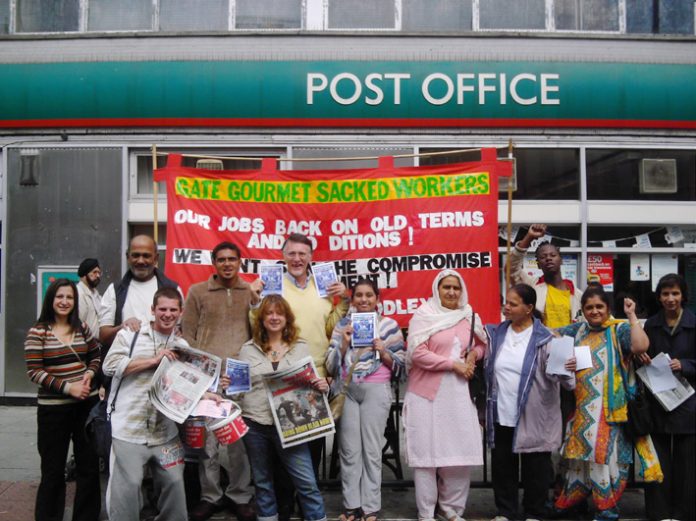 Gate Gourmet locked-out workers got great support for this Sunday's anniversary march and rally on Southall's busy High Street yesterday.
Locked-out worker Parmjit Bains told News Line: 'We have heard that the union and Gate Gourmet shop stewards are having a party in celebration of the anniversary at a restaurant in Southall this week.
'They can have a party but can't give the hardship money to the workers.
'It is going to be fine weather on Sunday. We are marching behind drummers through Southall to a rally with important speakers from the trade unions.
'Then there is going to be food, music and entertainment. It will be great fun.
'We are all coming with our families and inviting everyone.'
Heathrow airport worker Desmond Nurding said he would come to the rally.
He added: 'I work for Compass group at Hatton Cross. It's a big private company contracted by BA. There is no union.
'I feel very sorry for the Gate Gourmet workers, they have mortgages and children. I blame the management. It's very important that they win.'
Dorina, a local housewife, bought her ticket for the rally, saying: 'The victory of these workers will be a victory for all of us.
'It will show the employers that they can't get away with sacking people for no reason.
'It will also show the trade union leaders up for what they have done, trying to sell out the struggle.'
TGWU member, Baldev Sangha, bought his ticket for the rally and said: 'I'm a bus driver and I've always been a member of the union.
'They take the subs and must lead the fight. The union leaders have really stabbed these members in the back.
'I will definitely be there on Sunday.'