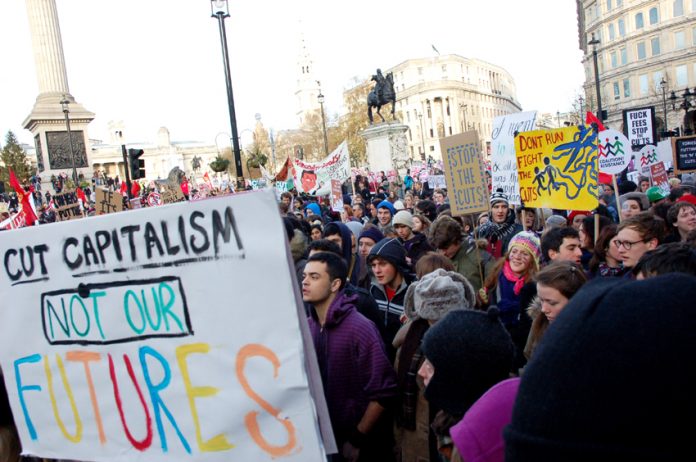 The University and College union (UCU) yesterday welcomed findings by the BBC, which it said shone a light on the real level of debt students will face under the government's new plans for student funding.
The figures calculate that some graduates could end up paying back double their original student loans under the new fees system in England.
The figures, produced by leading accountants, show that a student borrowing £39,000 for a three-year course could pay back up to £83,000 in total, in cash terms.
Under the regime, due to begin in 2012, graduates will pay back nine per cent of earnings above £21,000 for up to 30 years.
From 2012, universities will be able to charge up to £9,000 per year tuition fees, which will be paid upfront by the government but paid off once the student starts earning £21,000 or more.
Students will also be able to take out maintenance loans ranging from £3,575 to £5,288, depending on their family's income.
Interest on the loan is expected to range from inflation only, to inflation plus three per cent, with higher earners paying higher interest.
Only after 30 years is any unpaid debt written off.
Accountancy firms modelled the payments over the lifetimes of three fictional students.
The calculations assume all the students borrow a total of £39,000, £9,000 in fees and £4,000 for maintenance, over a three-year course, and go on to earn above the national average.
The speed at which the loans will be paid off depends on the earnings of the graduate.
The first student begins on average earnings, and gets a £1,000 pay increase each year.
After 30 years, the student has paid back £78,882 in cash terms, and still owes £14,513, which is written off.
The second student gets a £2,000 per year rise over and above average pay, and clears the debt completely in 25 years, paying a total of £83,791 in cash terms.
The third student gets paid £4,000 above average earnings, paying off the debt in 18 years, a total of £71,873 in cash terms.
The figures do not account for inflation over the period during which the loan is paid off.
UCU general secretary, Sally Hunt, said: 'The revelations that students will be paying back double or even three times what they originally borrowed is a key element that has been missed in the debate over fees.
'It is not simply a case of tripling the cost of a course; the loans are for fees and maintenance costs and the small print reveals that students will be paying back huge sums for most of their working lives.'