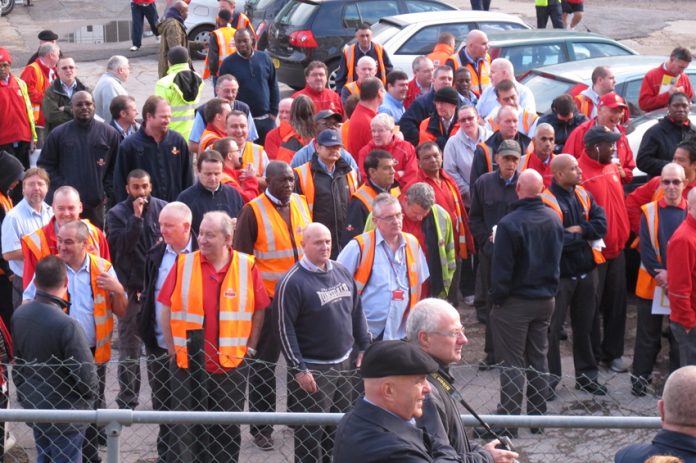 COMMUNICATION Workers Union (CWU) deputy general secretary Dave Ward yesterday pledged that the union will defend the terms and conditions of postal workers following the Royal Mail sell-off.
Addressing a mass meeting in the Mount Pleasant mail centre car park, north London, he said: 'You know more than anybody the efforts you made personally to turn this company round.'
Referring to the sell-off, he added: 'It's sad, disappointing and not necessary that workers who have made the company work again see the people who undermined it look to reap the benefit of that work.'
He declared: 'I hope you will stand together and deliver a Yes vote in the strike ballot tomorrow.
'The battle is not over. Three years is not enough, we want a long-term deal for the efforts you've put in.
'The debate on privatisation is over, we couldn't win the political argument with any of the three main parties.
'And I have to say I agree with people who are fed up with the way the Labour Party dealt with the issue.'
Condeming the government, he added: 'They have massively undervalued the company.
'They've sold us off to the City and created a scramble.'
But he warned the government and the privateers: 'Tomorrow's vote will be a game changer.
'We will defend your terms and conditions, and make sure the private owners don't mess up your jobs.
'They will not succeed unless the postal workers who turned the company round are satisfied.'
Ward stressed: 'This vote is about whether Royal Mail ends up working like TNT.
'We face going down in the race to the bottom or we stand up and fight.'
He concluded by pledging: 'We will get an agreement that shakes the company.
'We will end up with an agreement that suits you.'
CWU NEC member Mark Baulch told News Line after the meeting: 'We're looking for a long-term deal that protects and enhances our terms and conditions.
'In other industries that have been privatised, workers have seen their pay and conditions slashed in a race to the bottom.
'We're determined this is not going to happen to our members. We're very confident of getting a massive Yes vote tomorrow.
'We haven't made a decision on what action will be taken. We will be making an announcement tomorrow.'