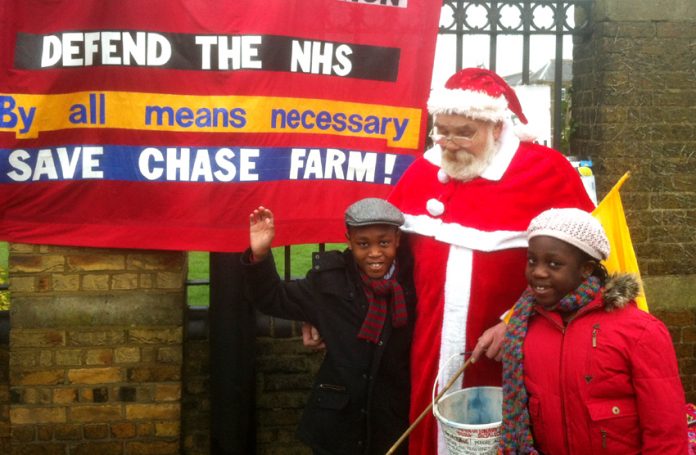 A nurse working at Chase Farm hospital is facing an eviction notice that would leave her homeless by the new year.
Gloria Ankrah is being threatened with eviction from the nurses' quarters that she has lived in for the past twenty years.
The nurses' quarters are situated within the grounds of Chase Farm hospital and some of the buildings have already been sealed up with metal plates on the doors and windows.
The 'Order for Possession' states: 'On the 14th December District Judge Write' ruled at Edmonton County Court that Chase Farm and Barnet Hospital Trust have been granted an 'accelerated procedure' for 'possession' of nurse Gloria Ankrah's home 'on or before the 28th December'.
Louis, a family friend of Gloria, told News Line: 'I believe that the scheme is to get possession of the land, to sell off the land, this is prime real estate.
'Gloria has been living here with her husband for twenty years and she has been issued with this eviction, this is outrageous!
'She continues to pay her rent and is retiring very soon but they want her out immediately.'
Gloria said: 'They take my rent money out of my wages every month.
'I am really angry, they have issued me with an order of possession, they say that I have already incurred costs. They have not given me a reason why they want me out!
'There is another doctor who lives in these quarters that is also threatened with eviction, he is in the same situation as me.
'Why this selective eviction? It is awful, I have worked for Chase Farm for nearly twenty years and they treat me like this.
'It is good to occupy any nurses' quarters threatened with closure.'
Bill Rogers, Secretary of the North East London Council of Action said: 'We will stand by Gloria and stop this eviction.
'This is part of these vicious cuts and attacks on Chase Farm Hospital including the threatened closure of the Maternity, Paediactrics and the A&E.
'We are opposed to this attack on staff.
'We will occupy any department threatened with closure and the nurses' quarters to defend the residents.
'On the day of eviction we will get a crowd of people, trade unionists, supporters and youth to physically defend Gloria and stop the eviction.'