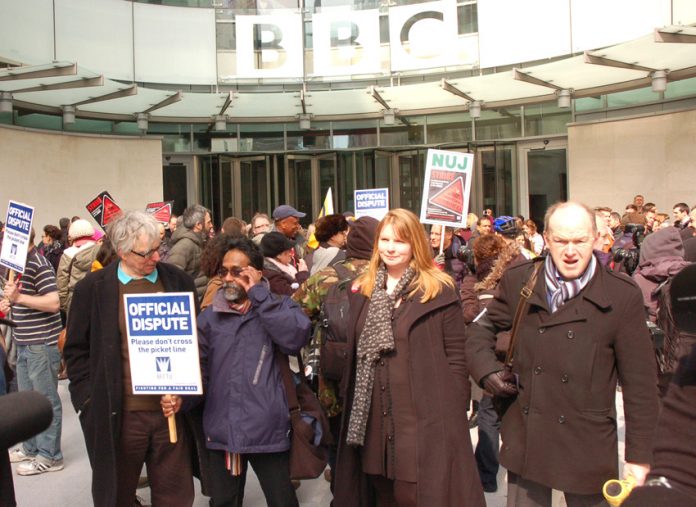 BBC journalists and technicians walked out across the UK at noon yesterday at the start of a 12-hour strike over cuts and a 'bullying culture'.
Broadcasting, cinema and theatre technicians union BECTU and the National Union of Journalists (NUJ) said: 'The industrial action is in protest at close to 1,350 job losses since the launch of Delivering Quality First – a policy unveiled in October 2011 through which managers pledged to preserve the best of the BBC whilst at the same time cutting 2,000 jobs.'
BECTU and the NUJ say they have clear evidence that the job cuts are leading to a serious decline in working standards with a sharp increase in reports from staff of stress, bullying and harassment.
Addressing strikers and assembled press outside Broadcasting House, central London, BECTU general secretary Gerry Morrissey said: 'Our members are on strike today.
'This is a different dispute. It's not about pay, it's about the BBC's failure to look after the health and safety of its employees.
'There have been 1,000 redundancies already made, and the remaining staff are expected to do their work and more.'
He warned: 'Quality is being compromised.
'It will get worse unless (new director general) Tony Hall comes in and gives the BBC the resources it needs.'
National Union of Journalists (NUJ) general secretary Michelle Stanistreet said: 'You are out today because you know the impact the cuts are having on quality journalism.
'You came into the BBC to do a proper job.
'Unfortunately, the people who are passionate about quality and professionalism are people working for it and not those who are running it.'
The NUJ leader called on the Corporation management to 'sit down and talk about the cuts that are harming the BBC'.
However, she said: 'The BBC have refused talks. It's a small amount of money that's needed.'
Slamming a 'long-standing culture of bullying', she said: 'It's outrageous that it's been allowed to go on unchecked for so many years.'