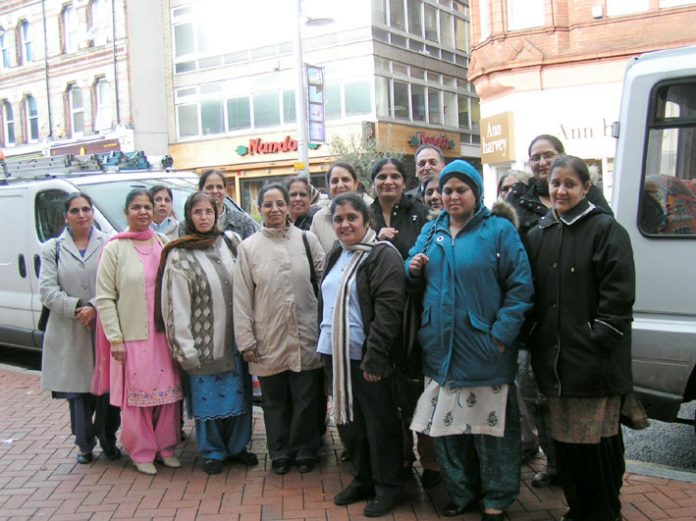 THE Gate Gourmet locked out workers' employment tribunal in Reading continued yesterday with the case for the sacked workers.
First to appear was Sajit Sandu, vice-chair of the Joint Consultative Committee, who explained that on August 10 he had been called back from a shop stewards meeting at about 10am, because of the confusion amongst the workers at the fact that management had bussed 130 casual workers into the plant.
He arrived in the canteen just at the time manager Chris Snow was announcing that everyone must be back at work in three minutes or they would be dismissed.
He insisted that there was a meeting when Mr Dhillon, the convenor, arrived, which took place with Lorraine Mason, manager, while most of the workers stayed in the canteen.
He stated under questioning that they did not expect the management to sack the staff, but expected what were ongoing discussions with the union to continue.
Mrs Atwell, shop steward, was the next to appear at the tribunal.
She had been present at work on August 10 and she explained that two controllers had told her staff in the tray set and kitchen department to go to the canteen.
She explained also under questioning that management had called meetings previously to explain issues to staff and she thought that this was one of these meetings.
She denied organising staff to go to the canteen and stated that there was a lot of confusion and that she had spent her time trying to calm people down.
She also stated that people were kept locked in the canteen and were only allowed to leave once they had handed in their swipe cards and ID, accepting that they were dismissed.
Mrs Kelsey appeared next to explain that she was one of those at work on August 10. She had just come back from her break when she was told by a manager to go to the canteen, where they were locked in.
Following her was Davinder Bath, who was on the afternoon shift on August 10.
She could not park her car in the car park, so parked it at Parkway car park.
When she tried to enter for her job, there were hundreds of people outside and lots of police and security stopping people entering the premises. She had been asked to sign a paper before she entered which she refused to do.
Mohinder Grewal followed with her evidence that a manager, Mr Ripley, had told them to go to a meeting in the canteen.
Mrs Sagu explained that she was also on the afternoon shift but had been told that she was not allowed into the premises as there was a meeting inside.
There was security at the main gate who refused her entry. She returned on August 12 to go to work but was told she had been sacked.
Mrs Davinder Bath was the next to give evidence, she explained she was on the afternoon shift on August 10th, after she finally parked her car and tried to get into work. The security guard asked her to sign a paper which she refused to do.
Mr Harbinder Bassy then explained that he was working on August the 10th and was` in the canteen on his break, he said he was kept there until four o'clock without any explanation.
Mrs Sukdev Bra explained she was in the canteen on August 10th and she was refused permission to go to the toilet unless she gave up her ID first.
Next Mrs Musserat Sahid explained that she tried to come to work on August the 10th but security stopped her coming in at the main gate.
Mrs Daljit Dinze who worked in the hot kitchens said she went to the canteen and was kept there for four hours.
Mrs Raksha Sharma parked her car at 3.30pm on August the 10th, tried to swipe her card to get into work but it didn't work and security wouldn't let her in to her job.
Mrs. Herbanz Seroy explained that she didn't do anything wrong and was also not allowed to leave the canteen but was finally escorted to the toilet by the security guard like a murderess.
Mrs Parmjit Sidhu said she was sent to the canteen by her manager Mr Gordon who said a meeting was taking place and to wait there until the union rep came.