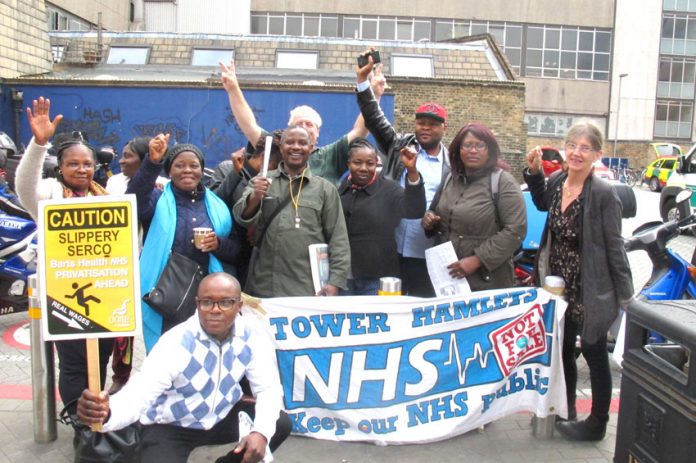 HUNDREDS of ancillary workers employed by Serco at Bart's Health NHS Trust began a two-week strike from 6am yesterday to 6am August 8th in their continuing fight against low pay.
Their union, Unite, and Serco held face-to-face talks last Friday (21 July) but Serco was unable to make an offer that addressed the genuine concerns of all the workforce who have endured getting poorer year on year.
Unite and Serco had met once already at the company's request at the beginning of July where the company refused to make a revised offer. Workers have already held a 48-hour strike from Tuesday 4th July and took seven days of action from Tuesday 11 July.
Speaking at yesterday morning's lively picket line outside the Royal London Hospital, Whitechapel, Unite member Edward Adom, who works as a cleaner, told News Line: 'We are really struggling because the pay is no good at all. I've got three kids. The pay doesn't keep up with the cost of living.
"I'm prepared to take more action because we really need a pay rise.I support my colleagues who call to be working for the NHS, not the contractor. The privatisation is bad because they are only there for their profit. All the unions should take action to defend the NHS and stop the cuts.'
Housekeeper and Unite member Gladys Osei said: 'We are still fighting, we haven't had any good news. We have to have a pay rise. Serco have added extra work on us – we have to do extra jobs for the same money. We go home tired and have to continue the next day – it's too much. We are prepared to take more strike action until we get our pay rise and more staff. We want to work for the NHS, not these private companies. All the unions should take action to kick the private contractors out. A general strike to defend the NHS.'
Unite shop steward Millicent Manso said: 'We've been forced to come out again for a 14-day strike. We need a pay rise. We've been working hard and deserve a pay rise. Everybody is important, you can't do without cleaners. Everything will be affected if the hospital is not cleaned properly. Serco have called on us to postpone the strike but with no negotiations. If they give us reasonable pay, we would stop the strike. But they won't do that – all they will talk to us about is postponing the strike. I want to work for the NHS, Serco just wants to make money.'
Striker Arsema Gebre, a catering worker, said: 'We want a pay rise. We want a 30p an hour rise. We are working harder for the same money, that's no good. Everything has gone up – gas bills, rent, food and clothes are all too much on our pay.'