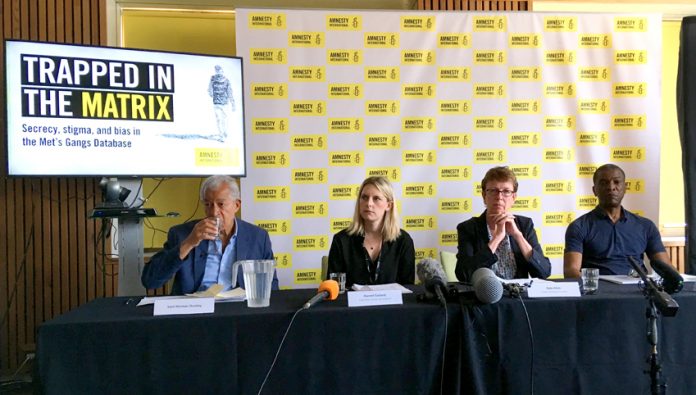 THE METROPOLITAN Police are using a 'racially discriminatory' Gangs Matrix database, Amnesty International accuses in its new report launched yesterday. Amnesty's UK Director Kate Allen told a press conference at the organisation's HQ in Shoreditch east London yesterday: 'Our research raises concern on every level – our young people are put on the database, they are predominantly black, and information is shared across agencies which affects their home, school and work.
'The Matrix is not only not fit for purpose, but detrimental to purpose.'
There are 3,806 people who have been put on the database, she said, and more than three-quarters of them are black. Allen stressed that the police have admitted that knife crime 'is not gang-related'.
She said: 'Tackling violence should be a priority for the Metropolitan Police. However, police data sweeps up a much wider group of people.' No one should be targeted 'because of the colour of their skin or postcodes … Police must judge people on their criminal action, not association,' she said, adding: 'The data-sharing practice may have a wider impact. It leads to an over-representation of young black men in the criminal justice system, which affects their homes and jobs'.
She said Amnesty is calling on the Mayor of London to review the database 'and if it can't be put right it should be scrapped.' Cross-bench peer Lord Herman Ouseley, former chair of the Commission for Racial Equality, said he was concerned 'individual data is being shared without knowledge, probably unlawfully, with a whole network of agencies.
'It captures you and determines your relationship with the system. Wherever they go in the system, there is something there that stigmatises them. 'It's institutional racism with a disproportionate representation of young black men.' Answering questions, Ouseley said: 'This was designed by politicians and if they wanted to they could stop it just like that.' Stafford Scott of Newham Monitoring Group, said: 'This is my community in a pattern of being criminalised by the state.'