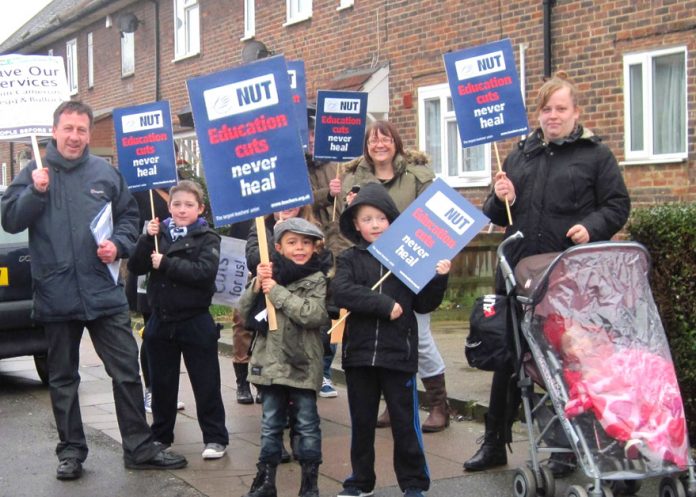 AS PUPILS return to school after the Christmas break, teachers' unions warned yesterday that funding cuts are much worse than predicted, hitting working class families hard.
The NUT and ATL unions said: 'In November 2016, the NUT and ATL predicted, when they launched the Schools Cuts website, that the government's long-awaited new national funding formula (NFF) would be a disaster for schools, given the real terms cuts currently being imposed.
'The Department for Education (DfE) claimed the website was "scaremongering". But the predictions by NUT and ATL have proved to be less severe than the reality. Between now and 2019/20:
• We predicted that overall schools' funding would be cut by £2.5bn. Last week, the National Audit Office (NAO) said it was being cut by £3bn.
• We said funding would be cut for every pupil in 92% of England's schools. On the basis of DfE figures released for the National Funding Formula (NFF) consultation, this will be the case for 98% of England's schools.
• We said secondary school pupils stood to lose £365 a year over this Parliament (between 2015/16 and 2019/20), when actually it will be £477. Primary pupils will lose £339.
Kevin Courtney, General Secretary of the National Union of Teachers, said: 'These are shocking figures that will create despair in schools up and down the country. Far from being the levelling up of funding that councils and heads have demanded, the government is levelling down, and schools across the country face real terms cuts in this Parliament.
'It is impossible to deliver an effective education to pupils if there is no money for staff, buildings, resources, materials, activities or a full subject choice. Parents and school governors should unite with teachers in demanding the government fund our education properly. This is no way to run an education system. More money needs to be given to our schools to give the country an education system it can be proud of.'
Mary Bousted, General Secretary of the Association of Teachers and Lecturers, said: 'All the government's warm words about protecting the poorest children look meaningless. Many schools are already struggling to make ends meet and are desperately trying to raise money from parents for school books and IT.
'These funding cuts will make the situation even more desperate. If the government doesn't increase the overall amount of funding for schools, a generation of children will have a severely restricted education with nothing beyond the basic curriculum and thousands of school staff will lose their jobs.
'Parents and pupils will be furious that government missed the opportunity with the new National Funding Formula to properly fund all schools and every child's education.'