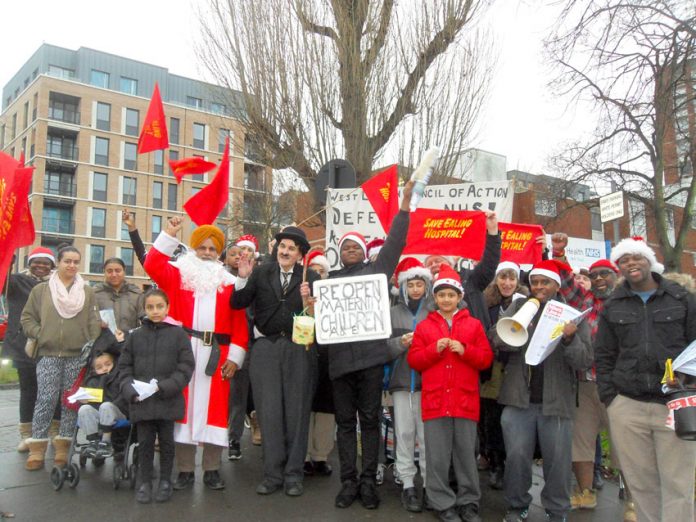 'IT is more important for them to save money than save lives!' Halla Kim, RCN member and nurse at Ealing Hospital declared yesterday morning during the Xmas picket outside the west London hospital.
Over 50 local residents and supporters joined the mass picket called by the West London Council of Action shouting: 'Save Ealing A&E! Occupy Now!' and 'Re-open maternity! Re-open the Charlie Chaplin children's ward!' Charlie Chaplin joined the picket and entertained the children with magic tricks.
Nurse Halla Kim continued: 'We need to keep our A&E here, it is so ridiculous to try and close it down. There is an urgent care unit, but if it is an emergency, patients will have to be diverted to Northwick Park or Hillingdon. How are they going to go? Have we got a lot of air ambulance helicopters? We only have two. If the death rate goes up, who is responsible? Someone has to be held to account. There will not be enough time to save a life. This is a life and death struggle.'
Gurdev Singh came to the picket as Santa Claus. He said: 'I have come from India on my holidays. In India we have to pay for health care which is no good. It is only free for ex-army people and those who work in the army. In the UK you have a free health system and the government is trying to close it down which is really bad.
'I worked for 43 years in the UK for Transport for London (TfL). I started working at Southall Bus Garage depot on July 21st 1976 when it was a nationalised transport service. Then they privatised the buses. They are now trying to privatise the NHS and that produces the worst conditions.
'I had an appointment at Moorefields Eye Hospital and I asked for the eye drops which I usually get for free and they said that they had to charge me for these particular eye drops and there is no longer free prescription for them. It cost me £8.60. All medicines must be free. We need to defend the NHS.'
RCN nurse Betty Malekela said: 'We need them to re-open the maternity ward and re-open the children's ward as well. The population is too big and we have nowhere to go. The nearest hospital is ten miles away. If you are in an emergency you will die on the way.'
Wood Green Young Socialists member Mohamed S. Conteh said: 'It is terrible that they shut down the maternity and the children's ward at this hospital. Now they want to close down the A&E. A&Es are so important.
'One of my best friends got stabbed in a party in Enfield and they had to take him from one hospital to another because there was not enough support for him.
'He survived on the way to the first hospital but died from internal bleeding on the way to the second hospital.
'I live near Chase Farm Hospital in Enfield. They shut the A&E, children's and maternity wards there. If the A&E at Chase Farm Hospital had remained open they could have taken my friend there and treated him and he may have lived. The NHS is our life. Without the NHS everyone who needs emergency help will die. I am against this government and they must definitely be kicked out.'