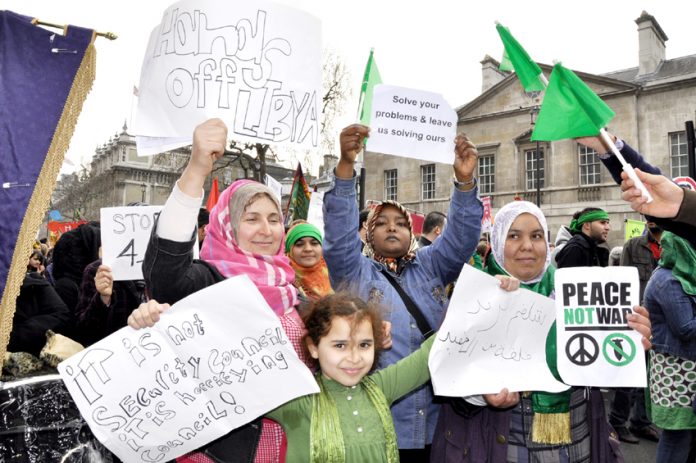 'THE crusader and colonial bombing campaign targeted inhabited areas in the city of Sabha at dawn on Monday, causing the destruction of several houses,' Libyan TV reported yesterday.
'Ambulances and firefighter teams rushed to those areas.
'Officials at the Health Ministry in Sabha spoke of many casualties among civilians in those areas.'
Sabha is a town several hundred miles south of the Mediterranean coastline of northern Libya. It is 100 per cent for Gadaffi, both its civilians and armed forces.
There are no rebels within two hundred miles of the city.
It is being bombed by coalition aircraft to defend the counter-revolutionary forces from a flank attack.
Also, nine powerful explosions shook Libyan leader Colonel Muammar Gadaffi's home city of Sirte yesterday morning, following two explosions in the city on Sunday evening.
Sirte, 360 kilometres (225 miles) east of Tripoli, with a population of around 120,000 people, remains fully under the control of Libyan government forces.
Yesterday's early morning explosions shattered the calm intermittently between 0420 GMT and 0435 GMT.
Libya accused Nato of 'terrorising' and killing its people as part of a global plot to humiliate and weaken the country.
'The terror people live in, the fear, the tension is everywhere. And these are civilians who are being terrorised every day,' said Mussa Ibrahim, a Libyan government spokesman.
'We believe the unnecessary continuation of the air strikes is a plan to put the Libyan government in a weak negotiating position.
'Nato is prepared to kill people, destroy army training camps and army checkpoints and other locations.'
He said three Libyan civilian sailors were killed in one of the air strikes on the fishing harbour in Sirte.
The Western-led coalition also bombed Tripoli on Sunday night, Libyan state TV reported, with both civilian and military targets hit by the 'colonialist aggressors'.
At least 114 Libyans have been killed and 445 wounded by Western-led airstrikes since the onslaught began 11 days ago, according to Libyan health authorities.
Meanwhile, Russia and many other states have expressed concern over the the Western air strikes, saying that aiding Libyan rebels was 'interference' which had not been sanctioned by the United Nations.
'We see media reports that officials from the countries taking part in the operation say that they are just following the aim of protecting the civilian population,' Foreign Minister Sergei Lavrov told reporters.
'But on the other hand we see reports, and no-one denies them, that coalition forces are bombing (Libyan leader) Muammar Gadaffi's forces in support of the armed rebels,' he added.
'Here there is a clear contradiction. We believe that coalition interference in a civil war is not sanctioned by the UN resolution.'
US Defence Secretary Robert Gates said that an international conference in London is taking place today to discuss political strategies to help bring an end to Muammar Gadaffi's rule.
Nato's Secretary General, Anders Fogh Rasmussen, said on Sunday that the imperialist bloc was taking charge of the whole military operation in Libya 'with immediate effect'.