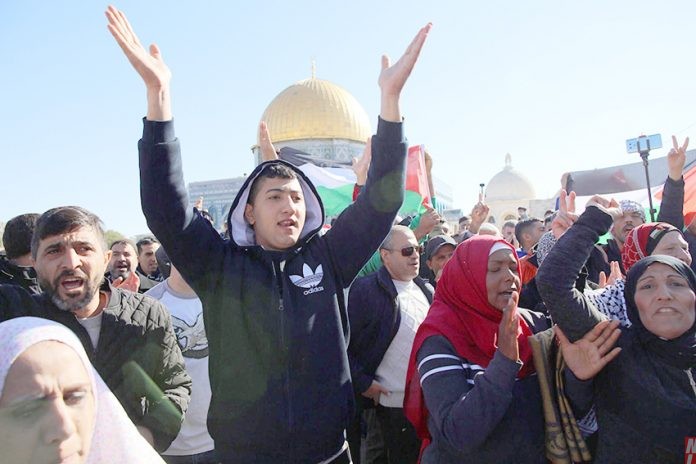 Hamas leader Ismail Haniyeh said: 'The Israeli occupation's field measures and steps in occupied Jerusalem and Al-Aqsa Mosque Compound, including the closure of Al-Aqsa's Bab al-Rahma and some of the Al-Aqsa-affiliated institutions, are extraordinarily alarming.
'They highlight the Israeli intentions to impose new restrictions in order to divide the Muslims' third holiest site in time and spatially until taking over the holy site.'
'Thus, Hamas Chief Haniyeh states the following:
'First: We hail the Palestinian people in Jerusalem, especially the Palestinians defending Al-Aqsa Mosque and foiling all Israeli schemes aimed at imposing a new reality on the ground. We praise their steadfastness that reflects a strong Palestinian will capable of thwarting the Israeli schemes and measures.
'Second: We call on the Palestinian people in the West Bank, Jerusalem, and the 1948 occupied territories to gather on Friday at Al-Aqsa and defend the holy site in order to foil the newly imposed Israeli measures aimed at Judaising the compound.
'Third: We urge the Palestinian resistance and people to defend Al-Aqsa with all means possible.
'Fourth: This Israeli assault on Al-Aqsa came after the Warsaw conference, where the Israeli leaders mistakenly thought that such a meeting had heralded a new era of normalisation of ties. Therefore, we call on the Arab and Islamic nations to end all forms of normalisation with the Israeli Occupation at all levels, place the Palestinian cause back on top of their agenda, and view the Israeli Occupation as their arch-foe.
'Finally, the Palestinian people, who have foiled all Israeli measures and schemes aimed at dividing Al-Aqsa Mosque spatially will not surrender to these measures and will keep working at all levels towards foiling this new conspiracy.'