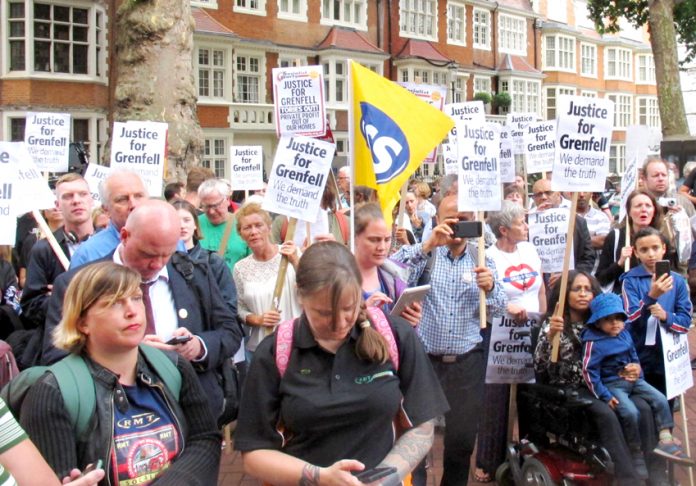 TORY council leader Elizabeth Campbell was called a 'murderer' and told to immediately resign by survivors of the Grenfell Tower tragedy after they pushed their way into the Kensington council meeting on Wednesday night.
The meeting was meant to ratify Campbell as the new council leader after the last leader was forced to resign because survivors were so angry at the lack of action by the council in the wake of the fire. However, her inaugural speech was drowned out by furious relatives of those who had died and survivors.
Boos and shouts of 'shame on you' and 'resign!' rang out in the chamber. One survivor screamed from the balcony: 'Listen to the people. They don't want you, they want Labour. We want Jeremy. My daughter doesn't want you, my wife doesn't want you, the people don't want you! You have let the dead down now you want to come for the living? Are you having a laugh?'
Conservative councillor Matthew Palmer was seen on camera mouthing to the chair, 'do not let them in. Do not let them in'. However, more residents flooded in and took over the meeting. The council was silenced while one after another, survivors and relatives took over the microphone.
One survivor warned: 'Do not play games with us, do not tell us lies, do not waste our time.' A woman who said her teenager niece had perished in the blaze addressed the chamber. She told councillors: 'I think you should be highly embarrassed by the response. It has been totally inadequate.'
The families of the deceased 'are being treated like cattle', another woman said as she took the microphone. A survivor told of how he had been living in one room in a hotel with one double bed for him, his wife and three children since the tragedy. 'I was forgotten about,' he said.
The main problem, he added, was that residents were facing a lack of action. 'You know who has done something for us? The residents of north Kensington. Our community, our neighbours.'
There are now widespread calls being made in North Kensington for a workers council, made up of residents and the trade unions, to take over from the council and to lead the fight to house the homeless, distribute the huge resources that have been donated, and see that those responsible for the Grenfell fire disaster face criminal charges.