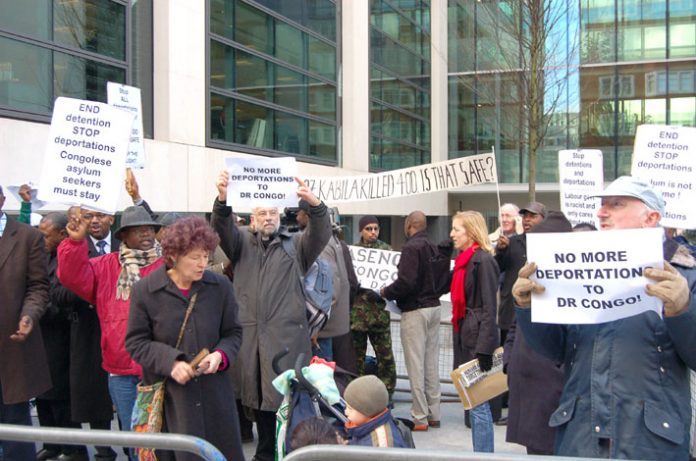 DOZENS of angry people staged an emergency demonstration outside the Home Office yesterday, demanding the government immediately halts deportations to the Democratic Republic of Congo (DRC), warning those being returned face arrest and even death.
'Stop the charter flight to the DRC today! Stop deportations!', 'DRC is not safe! Everyone from DRC must stay!', 'All refugees must stay!', the protesters shouted.
Ramon Wondjade said: 'I have a friend, an ex-serviceman: if they deport him, they're going to shoot him because he fought against that government. There's no doubt about it.'
Richard Monga said: 'These are people, they are not animals! They are human beings and their lives are in danger!
'There has been civil war happening there – five million people are dead.'
Jean Guy said: 'It's very, very serious. Tonight, charter flight XLA 4334 is due to take off from Stansted at 2100 hours to the DRC.
'First of all when you put feet in Kinshasa, straightaway they will arrest you. They will check pictures and if they see your face in those pictures, you are in big trouble.
'The British government knows about this, but they made an agreement between the two governments, saying that there is no fear for people being returned to Congo. But that is not true.'
According to Liz Atherton, coordinator of the Congo Support Project, about 20 children and 30 adults were facing deportation last night.
'Most of them were taken by snatch squads in early morning raids over the last week and quite a few were already being held in detention,' she said.
She said evidence was being collected that people being returned to the DRC face arrest, extortion and even torture and imprisonment in 'inhuman' conditions.
'If they have their name on a list, then they'll be lucky to survive, to be honest,' she said.
Meanwhile, solicitors for Abu Qatada are preparing an appeal, after the Islamic cleric lost his case at the Special Immigration Appeals Commission (SIAC) against the Home Office deporting him to Jordan.
Home Secretary Reid welcomed the ruling, seen as the first test of a policy that relies on 'diplomatic assurances' that deportees in terror cases will not be tortured on return.
Reid claimed: 'These agreements strike the right balance between allowing us to deport individuals who threaten the security of this country and safeguarding the rights of these individuals.'
But Abu Qatada's solicitor, Gareth Peirce, said: 'This is a hugely important issue – the rule of law as against national security. Is that to be a balancing exercise? And, if so, is this the way to balance it? We say no.'
She added: 'The whole concept of diplomatic assurances is utterly offensive. It encourages the regimes that practice torture.
'It says: "if you sign on this bit of paper about this man, you won't torture him, we're not worried about whether you keep torturing everyone else".
'It's endorsing a regime that practices torture, it's sending a terrible signal to the rest of the world – a truly terrible signal – and this is not, we say, how to interpret the rule of law as it should apply.'
Peirce said deporting Qatada would be a 'flagrant denial of justice'.
Liberty director Sami Chakrabarti said: 'Dodgy little "assurances'' from regimes that practice torture convince few outside government.'