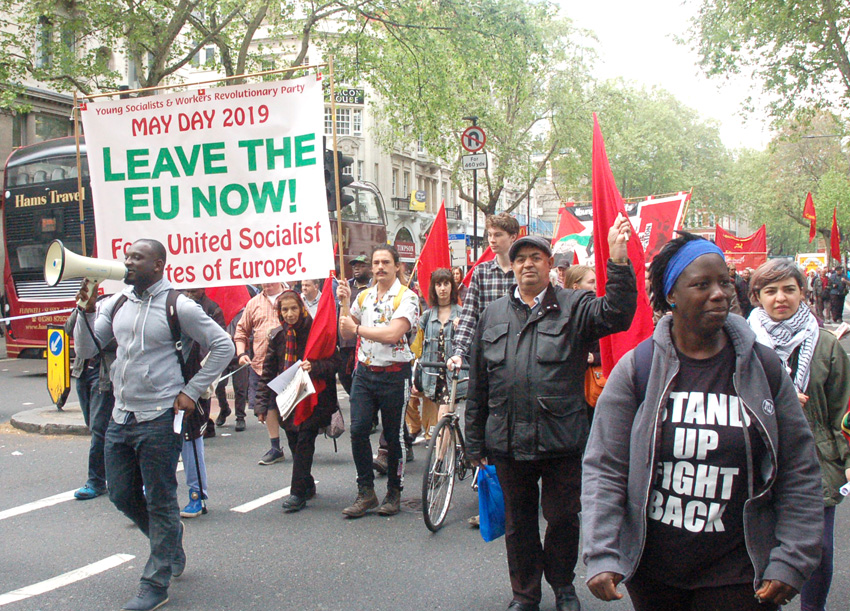 LEADER of the House of Commons Jacob Rees-Mogg indicated yesterday that Tory PM Boris Johnson is preparing to bring back to Parliament this Saturday a similar deal to Theresa May's three-times rejected EU Withdrawal Agreement.
Appearing on Sky's Sophy Ridge on Sunday, Rees-Mogg said that 'everyone is compromising to some degree'.
There are reports that the latest proposal is similar to the deal put forward by May, which Rees-Mogg at the time called 'completely cretinous'.
Pushed on this, he pointedly did not dismiss the notion, saying: 'We'll have to find out in a day or two whether I'll have to eat my words or not – time will tell.'
He went on: 'There's a line from Churchill saying that he often had to eat his words and he found it to be a very nourishing diet – and that is something that happens in politics.'
Ridge asked: 'What compromises are you prepared to make?'
Rees Mogg replied: 'We've already made compromises. If you look at the House of Lords report from 2017, we don't owe the EU any money if we leave without a deal.
'So the £39 billion is not owed under international, UK or EU law. So that's a pretty big compromise, to be willing to give £39 billion of taxpayers' money to the European Union to secure a deal.
'So there are already many compromises that people have been willing to make, people like me, people like the Prime Minister, in order to ensure a smooth exit with a decent deal.'
Ridge asked: 'Could you countenance a short delay or extension if it meant getting Brexit over the line?'
Rees Mogg replied: 'If we get the deal and we have a vote, possibly next Saturday and that is agreed, getting it through in legislation won't be that problematic.
'Bear in mind that we could deal with the abdication of a king/emperor within 24 hours, we can therefore deal with leaving the European Empire within 12 days.'
Ridge asked: 'But would a few extra days be a problem, in theory?'
Rees Mogg replied: 'The Prime Minister has been absolutely clear, we are leaving on 31st October. This is of great importance.'
'So no extension under any circumstances?' said Ridge.
Rees Mogg answered: 'You've heard what the Prime Minister has said. He's not going to Europe to ask for an extension, he's going to say: "Shall we do this deal or shall we leave without a deal?" and to see where that goes.
'Endless extensions are not doing us any good. They are not solving the problem. You may have thought my reference to 1936 was a bit antiquated, but the Benn brackets surrender bill/act got through in a few days. Parliament can legislate quickly when it needs to and the big decision will be the meaningful vote.'
Earlier, Ridge interviewed Labour leader Jeremy Corbyn and asked: 'According to the Benn Act, if there isn't a deal agreed by next weekend, then Boris Johnson must request an extension to Brexit. If he doesn't, when will you hold a vote of confidence?'
Corbyn replied: 'He is under a legal obligation if no deal is agreed by Parliament to write a letter. If he doesn't do that then he's in breach of the law.'
'So what would you do then?' Ridge asked.
'We'll obviously take parliamentary action against him at that point, either by legislation or a vote of confidence,' replied Corbyn.
He added: 'We will form an administration if this government collapses, with the purpose of a deal.'
In such circumstances, he went on: 'All the precedents are that the leader of the opposition is invited to form an administration. I've been holding meetings with all of the opposition parties regularly in my office.
'We are agreed on stopping a no-deal exit from the EU and as a result of that significant progress has been made in Parliament, such as the passage of the Benn Act.'
Ridge said: 'We know that Labour want to see a second referendum on Brexit. In that referendum, would you campaign to leave or remain?'
Corbyn replied: 'We'd hold a special Labour Party Conference once we'd reached the agreement with the EU and that conference would decide what we would do.'
Ridge said: 'Can you not see people's exasperation that you can't say how you would campaign in a referendum?'
Corbyn replied: 'We are giving people a choice, a choice between remaining or leaving with these terms.'