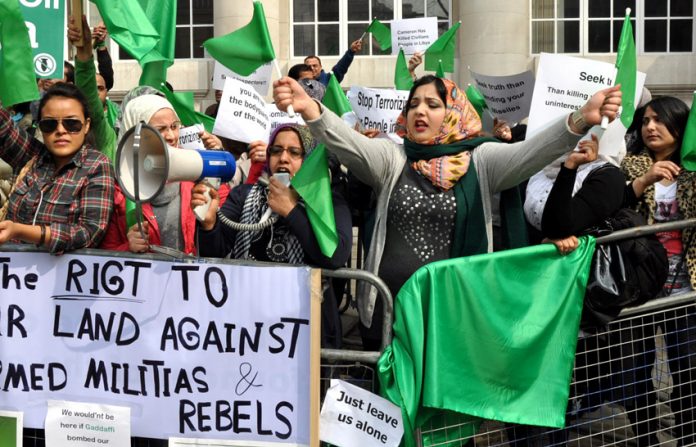 Five MPs yesterday urged a recall of parliament after the publication of a joint letter from US President Obama, French President Sarkozy and Prime Minister Cameron advocating regime change in Libya.
First to make the call was House of Commons Foreign Affairs Committee member, Tory MP John Baron.
He has written to the Speaker asking for a recall of Parliament 'early next week'.
His request for a recall has been backed by Labour MPs David Winnick and Jeremy Corbyn and Tory MPs Peter Bone and David Davis.
The US-UK-France leaders' joint letter says that 'Colonel Gadaffi must go, and go for good'.
It states: 'Even as we continue military operations today to protect civilians in Libya, we are determined to look to the future.'
It says that 'so long as Gadaffi is in power, Nato and its coalition partners must maintain their operations so that civilians remain protected and the pressure on the regime builds.'
It adds: 'But it is impossible to imagine a future for Libya with Gadaffi in power.'
Tory MP Baron, who was the only Tory MP to vote against intervention in Libya, said he had written to the Speaker because: 'I feel that the mission in Libya has changed quite significantly.
'When it was put before the House, the emphasis was very much on humanitarian assistance. This has changed into a mission of regime change.
He stressed that 'parliament needs to discuss this, because regime change is illegal' and that MPs needed to be able to 'ask questions' of the government.'
He added that 'many questions need to be asked, including why NATO allies are not willing to supply ground attack aircraft.
'A lot of NATO allies also have doubts about the legality of this action.'
Labour MP David Winnick said: 'I think the situation is such that the Commons should have a statement before we're due to go back and I think it would be appropriate if we were recalled early next week.
'I think there's growing unease over precisely what the situation is – but particularly how long it's going to last, the stalemate, and where it's leading. It's now very near regime change.'
Labour MP Jeremy Corbyn said: 'In view of the statement signed by the Prime Minister yesterday confirming that the military operation in Libya is linked to regime change there, I think it is a matter of such importance that Parliament should be recalled to debate the matter.
'Britain and NATO are making a habit of wars with questionable legality or justification.'