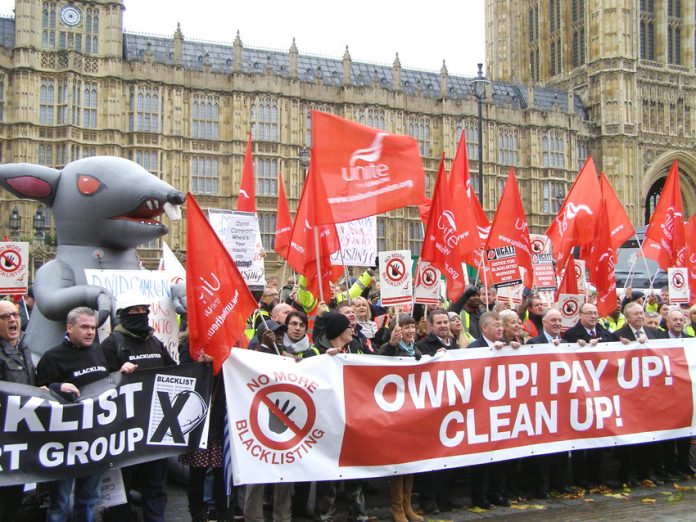 Blacklisted construction workers and their supporters, 200 strong, lobbied Parliament yesterday, demanding those who operated and used blacklists in Britain be prosecuted.
In 2009 the Information Commissioners Office (ICO) seized a Consulting Association database of 3,213 construction workers and environmental activists used by 44 companies to vet new recruits and keep out of employment trade union and health and safety activists.
Only 446 of the 3,213 workers blacklisted know they are on the blacklist, while 2,767 are not aware after the ICO decided not to contact them directly.
'Our lobby is the starting point and we are going to bring the building industry to a standstill if we don't get justice,' said Dave Smith of the Blacklist Support Group.
Billy Barry, UCATT member and blacklisted construction worker from Merseyside, added: 'In about 2004 and 2005, we were working on a job in Liverpool city centre for a construction firm called Mullens, subcontracted by TD Joinery.
'While we were lifting 150- year-old lead off the roof, there was this very very fine dust underneath, and we asked questions about it. "Is this carcinogenic or a danger to our health?" and the managers said: "Don't worry about it, everything is fine."
'We started to get together and said look there are one or two other issues here, and we found that the subcontractor became very aggressive towards us. We ended up electing a safety representative who they promptly sacked.
'So we hit the gates, to highlight the fact that the safety rep had been sacked. After that, the Safety Rep was reinstated and the job ran its course. But many years later it came to light about the blacklisting issue, and I was asked, "Did you check your file?"
'And I thought No! I never believed for one minute I'd be on it. I didn't believe you could get blacklisted in Great Britain over Health and Safety issues.
'Well you can and that's what it says on my file. "Raised health and safety issues. Would not recommend for employment."
'I'll tell you what I think should be done. In 1973, 24 building workers were arrested. Six were charged and jailed on conspiracy charges, Dessie Warren, Ricky Tomlinson, Arthur Murray and the other lads.
'If those lads can be charged with conspiracy for meeting in a pub to discuss their next legal, lawful picket, then surely that charge of conspiracy must apply here to these companies.
'If you ever needed an example of conspiracy, this is conspiracy. So prosecutions, why not!
'What we want is a public inquiry into the blacklist. It's wrong! They are the criminals, not us. We are the victims.'