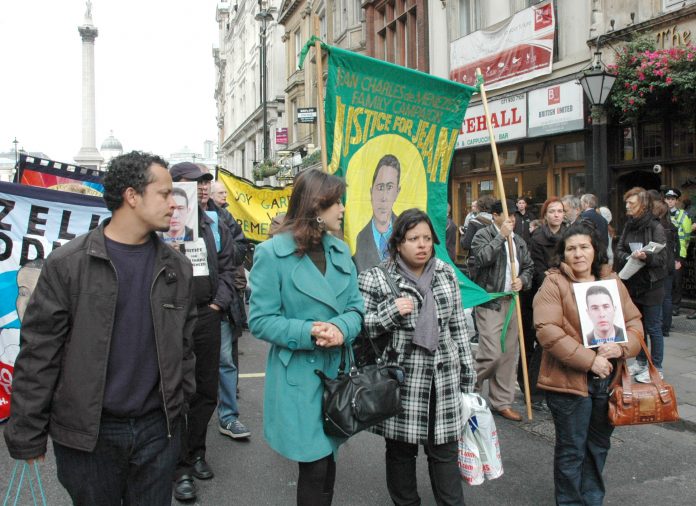 Firearms and surveillance officers hunting down Jean Charles de Menezes were 'out of control' when he was shot dead at Stockwell Tube station, a fellow passenger told his inquest yesterday.
Police claimed they mistook the innocent young Brazilian for suspected suicide bomber Hussein Osman.
Anna Dunwoodie, who was sitting two seats to the left of the young electrician whzen he boarded the train, told the inquest at the Oval cricket ground that police gave no warning before killing him with seven bullets to the head on July 22, 2005.
She told the inquest that she thought the firearms officers pursuing him were members of a gang.
She insisted she did not hear them shout any warning at the Brazilian electrician.
Dunwoodie told the jury: 'I would like to say that on whether I heard anything from police officers, I am very, very clear.
'I had absolutely no idea who they were and, had they shouted, I would have latched on to that.
Describing the scene on the train as one of panic, she continued: 'I think it was the man, who I now know to be a surveillance officer, (who) really seemed to be frightened or hyped up and when he was calling the other men they seemed. . .
'you know, when people are full of adrenalin and they move quickly and their movements are a bit jerky.
'I felt they were a bit out of control, that's what it felt like.'
Recalling the moments before de Menezes' death, Dunwoodie said he had closed his eyes and looked 'almost calm'.
She said: 'I guess he had a gun pressed to his head and there was not anything he could do about it.'
She told the jury that the police then shouted among themselves before the first shots 'came very suddenly'.
Dunwoodie said: 'My first thoughts were that it was someone firing a stun gun.
'There was a break and it was my memory that there were more shots.'
She told jurors that she was still 'shaken up' when giving interviews to the police afterwards.
She said: 'I was really under pressure to look at a memory that was very recent and frightening.'
All the passengers giving evidence have said that no-one shouted 'armed police' before de Menezes was shot.