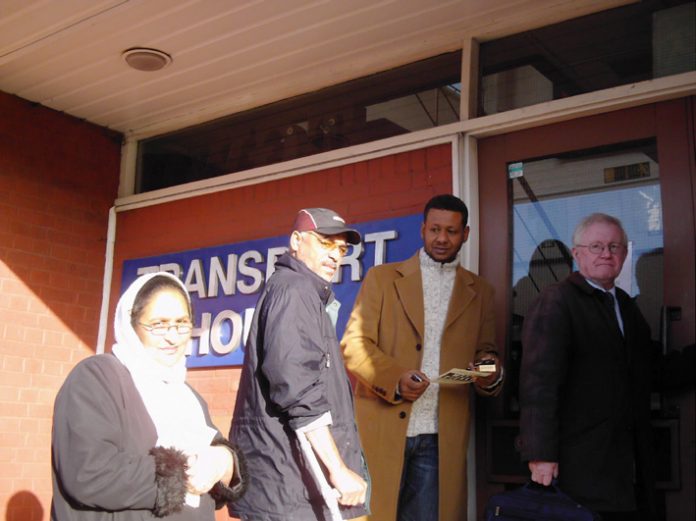 LOCKED-OUT Gate Gourmet workers are furious that their union leaders in the TGWU have ended their hardship payments.
Lakhinder Saran told News Line yesterday: 'We went to the union office and were told that the cheque we received on Monday was the last hardship payment.
'We said what about those of us who are fighting on? And we were told we would have to talk to Tony Woodley (TGWU General Secretary) or Oliver Richardson (Regional Officer) about that.
'They can't be allowed to stop our hardship payments, we are still in dispute.'
Earlier on the picket line at Heathrow Airport, Harbans Saroway said: 'We won't let them stop our money, we are going to make the union fight for us, we are not going to let them end this struggle just like that.
'That is why our conference this Sunday is so important, we need support from the TGWU and other unions.'
Jaswinder Kumar added: 'The dispute is going on so the hardship payments must continue, we won't let them stop our money, the union leadership has taken the company's side, it must go.'
Earlier on, a team of Gate Gourmet workers campaigned at Heathrow Airport Terminal 4 for this Sunday's conference.
Mr BJ Singh, a TGWU shop steward at KLM, said: 'We've been supporting the Gate Gourmet workers all along and I joined their mass picket on Sunday.
'The company has treated them badly, the T&G leadership should be actively supporting them not stabbing them in the back.'
KLM TGWU member Dave Street said: 'It's all wrong, things are being agreed by the union leaders that the members cannot agree. How can they accept compulsory redundancy, it's disgusting. We have to change this leadership.'
British Airways TGWU member Ray said: 'We walked out here to support you and they took £300 out of our wages and sacked two of our shop stewards and they took away the lifelong staff travel concession from a third.
'We walked out because what happened to you could happen to us, now the situation is critical. If Tony Woodley agrees to compulsory redundancies at Gate Gourmet then he will agree them at British Airways.'