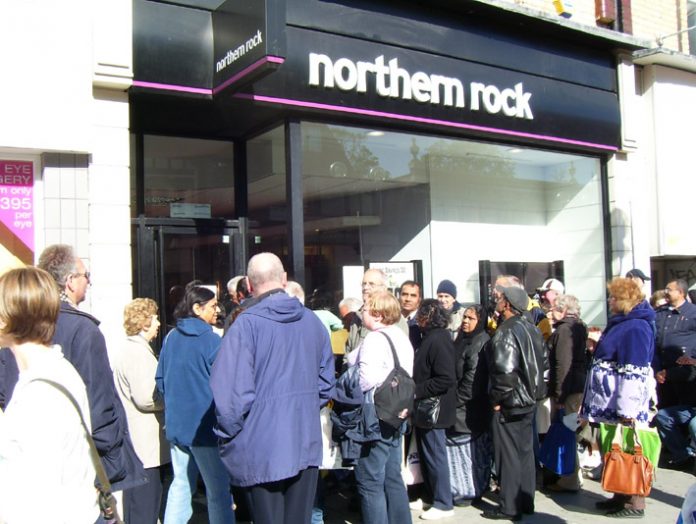 SHARES in Northern Rock slumped yesterday leaving the Brown government contemplating the £28 billion guarantee it has given to secure its deposits.
Financial markets around the world have been further inflated by the 0.5 per cent cut in interest rates to 4.75 per cent by the US Federal Reserve bank on Tuesday.
However, the dollar has crashed while the price of oil has risen to an all-time high of $82 a barrel, with gold rising to $726 an ounce.
In February, Northern Rock's share price reached a year high of £12.51, now the bank faces being broken up.
The Bank of England and the Financial Services Authority (FSA) remain at loggerheads over the last-minute government guarantee to the bank.
FSA officials had reportedly urged the Bank to offer an emergency loan to Northern Rock weeks before the crisis.
The bank refused citing the 'moral hazard' of state support for a reckless capitalist which would encourage the notion that the bank will bail out all bankers that go bust.
The Bank of England governor now faces the sack.
Meanwhile, the Northern Bank faces being bought at a price that will be a lot less than its current much slashed share price.
While shares prospered, the US rate cut was bad news for the dollar. The European single currency hit an historic 1.3988 dollars high on Tuesday and remained within striking distance of 1.40 dollars on Wednesday.
New York oil prices – which hit a record high of 82.38 dollars per barrel on Tuesday – held above 82 dollars per barrel.
Elsewhere in London, gold prices surged to 726.70 dollars per ounce, as the precious metal was boosted by the weak dollar and runaway oil prices.
However, there are grave concerns as to how long the shares rally will last given the continuing very bad news linked to the crisis in US subprime home loans to risky borrowers.
'The party will continue around the world at least for today but it won't last forever,' said Fumiyuki Nakanishi, analyst at SMBC Friend Securities in Tokyo.
His message was that there could well be a flood of tears tomorrow.
'The fundamental problems with the subprime loans and fears of credit crunch have yet to disappear,' said Nakanishi.