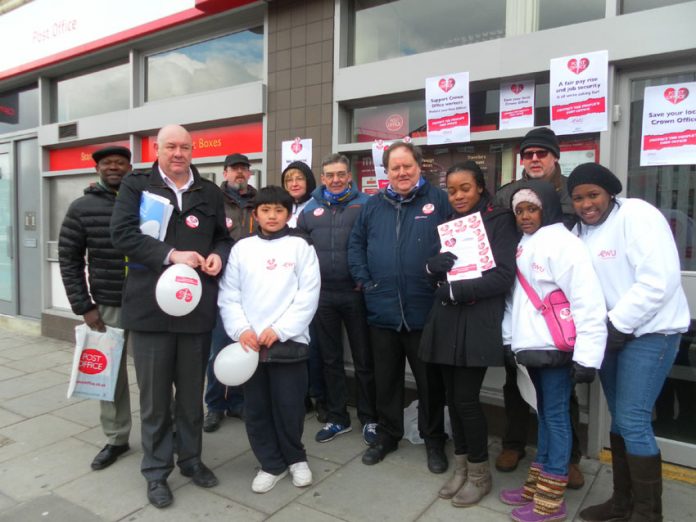 FOUR THOUSAND workers in Britain's network of 371 Crown Post Offices are on strike today against the government's policy of wholesale closures and in defence of jobs and pay.
Today is the ninth full-day strike across the Crown Office network against Post Office plans to close and/or franchise 75 Crown Offices, 20% of the network, and cut up to 1,500 jobs.
These main offices comprise 3% of total post offices but handle 20% of all customers and 40% of all financial services sales making them the powerhouse of the network.
Staff at Crown Post Offices have not had a pay rise since April 2011 while all other staff represented by CWU in the Post Office have had two pay rises totalling 6.75% in this period while head office managers shared a bonus pot of £15.4 million.
Post Office staff voted by nine to one (88%) in favour of strike action and have already taken strike action on eight previous occasions: Easter Saturday, 19 and 29 April, 7 and 28 May, 20 June and 29 June, and 17 July.
The closure and franchising plans are meeting stiff opposition across the country with tens of thousands signing petitions, and public meetings unanimously rejecting the plans.
Yesterday, a leading member of the CWU demanded an immediate strike ballot to defeat the government's plan to privatise the Royal Mail before Christmas.
Rob Bolton, CWU Delivery Unit Rep South Central No 1, told News Line: 'Today's strike in all Crown Post Offices is to defend jobs and conditions of service.
'The Post Office is intent on shutting completely all Crown Post Offices, and outsourcing all PO work into WH Smith, Sainsbury's or other supermarkets.
'With outsourcing comes the inevitable attack on wages and conditions.
'A one-day strike will not deter the Post Office from its aims. The CWU leadership must call an indefinite strike as the only way to defeat the attack.
'A levy must be raised on all CWU members to support their Counters colleagues.
'Similarly, the only way to defeat the latest attempt to privatise Royal Mail is to call an all-out strike.
'At its Postal Policy Forum that meets on Wednesday and Thursday this week, the CWU Reps and their leadership will discuss issues such as privatisation, pensions, pay and World Class Mail (WCM) which is the speed-up programme.
'All these issues are inextricably linked and the only policy which is not being discussed is the only way to defeat the government and Royal Mail plan – and that is an all-out strike call.
'This must be done. There must be an immediate strike ballot of all CWU members against the government's policy of privatising Royal Mail.
'The CWU must call on every union to come out with them. Anything else is just misleading the members.
'The leadership of Hayes and Ward is not capable of adopting this policy. They are linked to the Labour Party which supports the policy of privatisation.
'The CWU must elect new leaders who are prepared to lead a fight to do what's necessary.'