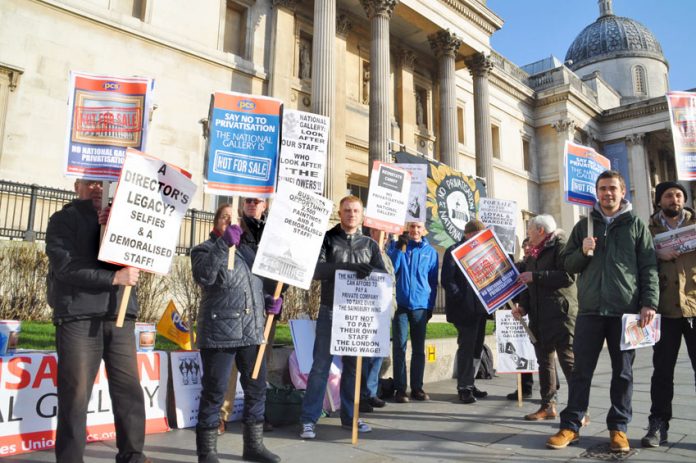 'PRIVATISATION No Way!' a lively picket of at least 40 strikers, chanted outside The National Gallery in Trafalgar Square yesterday, on the second day of their five-day strike against privatisation.
The Gallery management has paid hundreds of thousands of pounds of public money to private company CIS to 'temporarily' take over services in a third of the gallery.
But this is just the beginning, out of the National Gallery's 600 staff, the plan is to hand 400 over to a private company.
Hundreds of the Gallery's security staff have taken strike action in defence of their terms and conditions, and of the National Gallery and its precious contents.
Nick Boyd, Public and Commercial Services union (PCS) Rep told News Line: 'We are facing a transfer to a private company, and in any transfer this will result in lower wages and worse conditions.
'Our current hours are 10am to 6pm, but this could be changed to anything between 8am and 11pm.
'They say our terms and conditions will be transferred under the TUPE but this is not something that can be guaranteed after six months.
'A decision can be taken as early as May which will mean that by October fewer people will be doing the job and there will be a flexible workforce.
'The current staff have a knowledge of the National Gallery and its paintings and are all interested in art.'
Another picket, Linda Seaton, a warder at the Gallery for over eight years, said: 'Privatisation would be a waste of public spending.
'Private company CIS were taken on to cover the Rembrandt exhibition. We were told they were just brought in to support us during that exhibition, but they ended up taking over the whole exhibition and since then they are taking over the whole floor of the Sainsbury Wing of the gallery.
'As far as we know, they are only paid a flat rate for whatever hours are worked.
'When the Gallery say they are looking for volunteers to work late, we have no problem, but we expect to be paid overtime.
'I live in Kent, and I don't want to be travelling home late at night.'
Another striker, Ben, said: 'A number of private companies are bidding for contracts and I don't like the way it is being done.
'The National Gallery is like the NHS, it is seen as a British institution for the benefit of the people.
'One of our chief negotiators Candy Udwin, has recently been suspended.
'Six months ago, one of our team leaders was dismissed, accused of being a "whistleblower". He wasn't allowed to clear out his locker and was escorted out of the building where he had worked for 14 years.'
Ben added: 'We are also on strike for a London Living Wage for all.
'The Gallery is the only major museum that does not pay the London Living Wage.'
On the eve of the first 5-day strike, gallery bosses suspended Udwin, for drafting a question about the cost of the private company, CIS, for the PCS negotiating officer.
More than 8,500 people have already signed a statement condemning this victimisation and calling for her reinstatement.
PCS general secretary Mark Serwotka said: 'This dispute and the sell-off plan are putting the global reputation of the National Gallery at risk.'