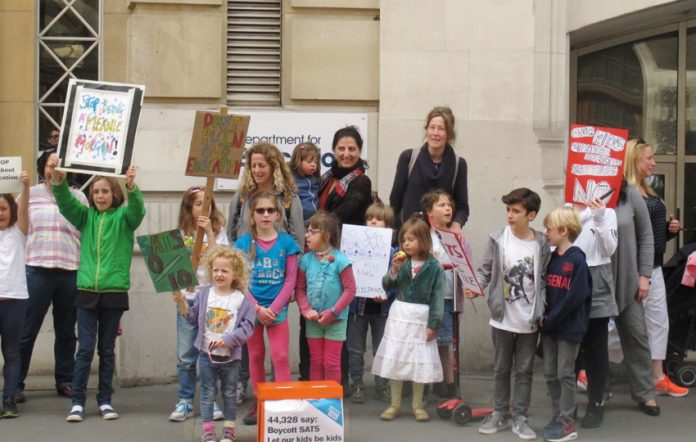 TORY Education Secretary 'Nicky Morgan has failed and must resign!' teachers union NUT demanded yesterday.
Teachers, parents and school students are furious at the chaos and stress caused by the hated SATs exams. These prompted a mass parents' rebellion where they pulled their children out of school for the day, boycotting the exams.
Demands for Morgan to quit are spreading fast as an online petition entitled 'Nicky Morgan has failed our children – she should apologise and resign' passed the 10,000 mark by yesterday afternoon.
The petition reads: 'Because of the major failings of a key reform, and because of the effect of those failings on schools and children, Nicky Morgan must first of all apologise to all those children who took KS2 SATs this year, and then resign her post.'
Kevin Courtney, Acting General Secretary of the National Union of Teachers, said: 'This year 47% of children will be told they haven't reached the "expected" standard in at least one of their SATs papers.
'Last year this figure was only 15%. This is extraordinarily demoralising for children who are just about to make the big step up to secondary school. They have been told they haven't reached the expected standard to start secondary school.
'It is really important that we reassure parents and children that this is not an accurate judgement of their abilities.  This is not their failure – it's Nicky Morgan's failure.
'It was clear to most teachers and head teachers that the criteria for teacher assessment did not allow teachers to recognise the strengths of pupils' work, and that the SATs themselves were going to be a car crash.
'The material was too hard, the curriculum wasn't in place, the guidance provided to schools was constantly changing, and the tests were badly designed. The NUT called for this year's tests to be cancelled and for the whole new programme of primary assessment to be put on ice, but Nicky Morgan wouldn't listen.
'Teachers have tried hard – in some cases to the point of exhaustion – to protect children from Morgan's demands, and to teach a curriculum which is engaging and creative. But as many teachers have told the Union, "there is only so much you can do".
'At some point, the effects of the assessment system will be felt. Because of the major failings of a key reform, and because of the effect of those failings on schools and children, the National Union of Teachers today calls on Morgan to resign her office.'