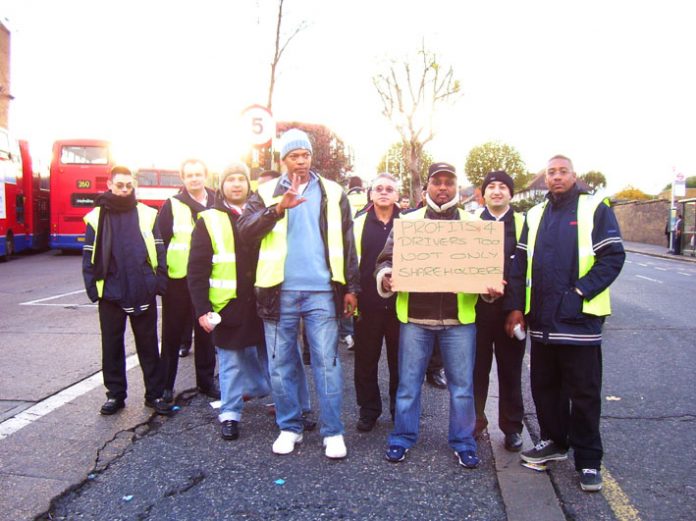 The arrogance of Metroline's boss in talks with the Transport and General Workers Union, coupled with the failure to move sufficiently on pay, means Londoners will face another day of travel misery today.
Negotiators from the union said that talks at the Arbitration And Conciliation Service (ACAS) broke down after Metroline's boss told the TGWU if bus workers felt they couldn't afford to do the job they should look for another job.
This came after the company had edged marginally towards the union's claim by increasing their offer to five per cent.
Jim Buckley, TGWU regional industrial organiser said on Saturday: 'Quite frankly the Metroline chief left experienced bus workers and negotiators speechless with his arrogance.
'If anyone prevented a settlement it was this man.
'Regrettably for the travelling public our drivers and engineers will strike again on Monday.'
The TGWU has put in a claim for a basic pay rate of £11 an hour which would mean a six per cent rise from the current £10.33 an hour.
The union moved its claim during the talks to 5.75 per cent for the eight months from 1st April 2006 and one per cent for the three months from 1st January 2007 to try to get a settlement.
This offer was rejected by the company, who offered five per cent. Average earnings at Metroline are currently £22,000.
The five per cent offer would still leave the Metroline workers between £2,000 and £3,000 behind the average of other London bus operators who not only pay a better basic but are prepared to pay extras such as shift premiums and unsocial hours allowances.
Buckley added: 'Metroline bus workers are behind in the pay league in terms of other London bus workers not only in terms of pay but also allowances and shift premiums.
'When you're behind you want to catch up and that's what we are about.
'For Metroline to tell their workers to leave shows not just arrogance, it shows they are paying lip service to their passengers.'
The action will cover Metroline operations out of Potters Bar, Holloway, Kings Cross, Perivale, Edgware, Cricklewood, Wembley and Willesden.
The main routes that are expected to be hit include the 134, 139, 24, 263, 82 and 113 as well as many night bus routes to North London out of Trafalgar Square.
The strike affects both drivers and engineers. The drivers strike will start at 4.00am and the engineers will start at 6.00am. Both strikes will last for 24 hours.